1977

DATE INDEX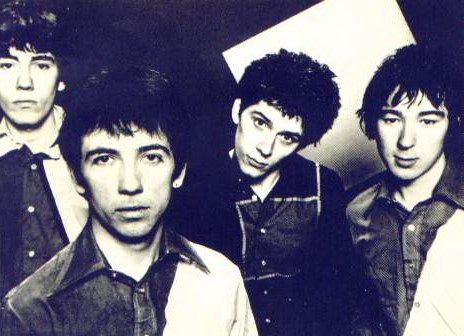 Are featured in todays New Musical Express, which is well timed as the band begin their next UK tour tomorrow called imaginatively 'Tour Number 2!'
Other punks getting some press are the Sex Pistols (as always) who's recent trial gets em a 4-page special. The Clash and the Prefects manage to get profiles along with album reviews of Skrewdriver and The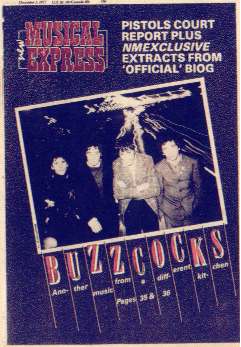 Drones. The UK singles charts features the Boomtown Rats, Elvis Costello, Tom Robinson Band and a new entry for the Tubes and their 'White Punks On Dope' 45. Meanwhile The Pistols are still at Number 3 in the UK album charts along with the long running Stranglers making their presence felt.


Pier Pavillion, Hastings London seem to have recovered sufficiently after their drummer was poached by the Damned last month to regroup. They are currently touring the toilets of the UK. Their record company has just released their next attempt at chart success 'Animal Games' but like their earlier stronger stuff this one seems doomed to fail once more...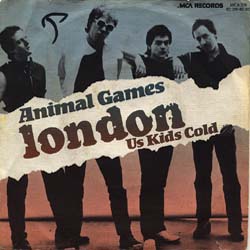 LONDON: "Animal Games" (MCA).
Talking of the Damned . . . London's drummer Jon Moss is temporarily sitting in for the departed Rat. The last time I reviewed a London single they sent me a dainty plastic mammary with an endearing inscription. I didn't like the record much, you see. I don't like this one much either, despite the faintest attempt at a new direction. They played it on So It Goes last week, and many would have been watching because of the S. Pistols.
(Melody Maker December 10th 1977)
TALKING HEADS
Old Waldorf, San Francisco CA
Love comes to town
With our love
The book I read
Artists only
Stay hungry
The big country
New feeling
Thank you for sending me an angel
Who is it ?
Psycho killer
No compassion
1-2-3-Red light
Civic Hall, Wolverhampton

I attended this gig and the Jam were tight on form and very professional in black suits and white towels to wipe the spit and sweat off. Paul Weller leans over the front rows during the set very perplexed and grabs a spitter by the scruff of the neck and gives him some direct verbal before dedicating 'Away From The Numbers' to the felon.







The Adverts

University, Newcastle




THE YACHTS

Elizabethan Rooms, Manchester




Radio Stars

Katys, Nottingham

Thames Poly, London




Speakeasy, London




PLUS SUPPORT

Municipal Hall, Stratford, London




THE DOLL

WILD YOUTH

Nashville, London




BRENT FORD & THE NYLONS

Barrel Organ, Birmingham




Polytechnic, Brighton




THIN LIZZY

Odeon, Birmingham




ALBERTOS Y LOST TRIOS PARANOIAS




BERNIE TORMIE

TWILLY

Mid-Herts College, Welwyn Gareden City




WRIST ACTION

Greyhound, London




STAGE FRIGHT

Granada Club, Rugby




SORE THROAT

Pegasus, London




BETHNAL

University, Southampton