1977

DATE INDEX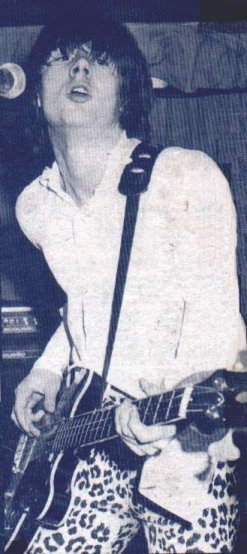 THE RICH KIDS
- the band launched by former Sex Pistols bassist Glenn Matlock, whose line-up includes ex-Slik lead guitarist and vocalist Midge Ure return from a residency at the Paris G-Bis s club to play their debut UK dates starting tonight at Wolverhampton, Lafayette. They headline seven gigs before Christmas, as the prelude to a full tour in the New Year.Admission is being pegged to a maximum of £1 and, in fact, in some cases it will be as low as 50p.
The Kids who have just laid down some tracks for their first single for EMI, with whom they recently signed.

Eskit Cub, Rotterdam, Holland.

Kings Hall, Derby

The Pigs,
Marquee, London
THE COVER of their new single 'Defiant Pose' shows a lad vomiting in the horrified presence of his parents. But they're nice boys really (The Cortinas) and anyway, I'll bet it's only pretend vomit. The Marquee wasn't all that full (everyone else was the other side of town seeing The Clash) which made for a very civilised evening - no python-like death crushes, no full-frontal attacks from airborne beer glasses, no sauna baths. In other words, no fun. No, I didn't meant that. It wasn't the band's fault, it was just that the proceedings seemed a trifle somnolent. The Cortinas have changed. Grown up a bit I guess (though they still look enviably young). To say that their material is no longer in the field of hard-core punk is not to suggest that they've drifed from original bearings or even - gulp - gone commercial. They've just become a helluva lot more interesting.
Singer Jeremy Valentine is a highly enigmatic front man; his rather tough, building-site swagger is belied by a cute face and a soft West Country accent. Especially endearing when he explained that they would not do 'Fascist Dictator' - "We just don't do it anymore. That's the way it is . . . I'm sorry". Luckily however, they still play 'Television Families', B-side of the aforementioned and still ~ one of the best singles of '77 with its speed-of-light lowdown on all your fave soap operas. 'Blue Gene Baby' stool out amoung the plethora of songs about Gene Vincent, more of a straight rock number which confused the pogoers.
They finished up with an ingenious arrangement of 'We Gotta Get Outta This Place". It was a pity about the rather bleary-eyed atmosphere though. It might be fashionable to pretend your audience doesn't exist, but the Cortinas don't subscribe to that doctrine (good for them). In consequence, they need the audience to be really with them. This one was with them all right, only there wasn't very much of it!
(Lindsey Boyd Sounds December 31st 1977)
The Pork Dukes are actually more disgusting than the Sex Pistols, yet get none of the press. Their second single "Making Bacon" b/w "Tight Pussy" is in the less discerning shops today. It's on their own Wood Records label. As on their last record, there are no pictures of the group, no "real" names, no taste in lyrics. On the first Pork Dukes record the band was listed as being Vilos Styles, Ron Dodge, Scabs and Bonk. This one lists Vilo's sidemen as Harrendus Styles, Mack E Valley and Germum Le Pig. We'll probably never know just who is in this band and it's probably best that way....
GROSS-OUT OF THE WEEK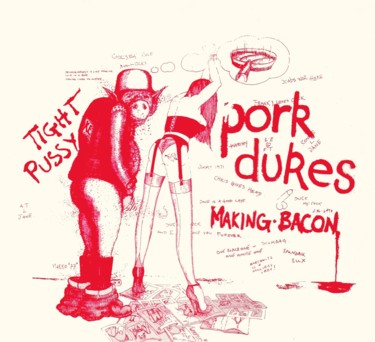 PORK DUKES:
Making Bacon (Wood).
If the Pork Dukes strategy is to out-gross the Pistols by out-grossing them, they could find themselves sadly disappointed. This 12-inch platter is stamped out on piss-coloured vinyl and comes (geddit?) in a picture sleeve guaranteed to bring on widespread apoplexy among moral custodians and even among the more faint-hearted members (geddit?) of the child-molesting community. The illustration depicts a pig in a Nazi helmet about to have his (its?) way with a bondaged nubile. As for the Dukes' songs themselves, they're riddled with explicit references to assorted sexual pastimes and others that are less fun. Among them, nose-picking. The great irony about all this is that musically the Dukes are simply unable to get it up. The guitars, bass, and drums are limper than a senile vicar, and the vocalist sounds as though he could get a job as a harem guard on the strength of his considerable disinterest. Maybe this explains why the Dukes work so hard at being butch and offensive. They're trying to compensate.
( New Musical Express December 17th 1977)



University, Lancaster




Gatsbys, Torquay







RIFF RAFF

Kensington Hotel, London




DEAF SCHOOL

DRUNK N DISORDERLY

(Rat Scabies new band)

Rainbow, London




THE DOLL

Lodestar, Blackburn




THE YACHTS

Top Rank, Birmingham




XTC

THE MANIACS

Music Machine, London




Pegasus, London




THOSE NAUGHTY LUMPS

Havanna Club, Liverpool




THIN LIZZY

Lewisham Odeon, London




BETHNAL

University, Bedford




SPEEDOMETERS

Rochester Castle