1977

DATE INDEX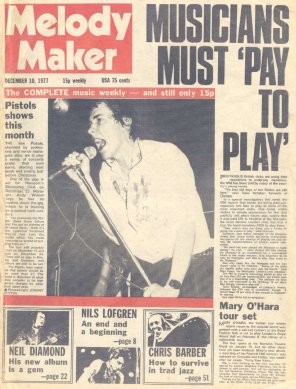 Melody Maker
This weeks edition of the Melody Maker breaks news of a new secret UK tour by the Sex Pistols. Also The Buzzcocks, Wire and the Boomown Rats are featured in interviews, with a centrespread expose on the paltry pay bands face in the London clubs. A lotta lotta punk bands have their say. Wires debut album also gets a review. The Boomtown Rats and Tom Robinson Band are still featured in this weeks singles charts, whilst The Pistols, The Jam and The Stranglers are still littering the album charts. There's a new entry from Richard Hell And The Void Oids.
Huize Maas, Groningen, Holland
The original and still the best...
THIS WAS night five of the Pistols' lightning tour of Holland, taking in about ten packed-out church hall-sized gigs - each preceded by a day's minimal publicity.It was just great. The Pistols may still be into chaos in the wider context, but when it comes down to gigging they're out to give a good time, straight as a pickled Thomas. Johnny Rotten, dressed in plumped-up tartan trousers and a striped grey shirt with "A True Star" monogrammed in Bic over the right breast, grabbed the audience with his persona and scything vocals right from the start of "God Save The Kerween", until the third encore of "Submission".
He alternated manic fits of upper body, head and eye activity with a motion not unlike wading through deep water, all petulance a-go-go. Behind him, Jones, Vicious and Cook laid down rounded, so-right music that sounded like the records through 200-watt headphones. Their straight approach is what confirms the Pistols in their position as original and best. They know they don't need to be more punk than punk, which virtually all bands in the second league and below fall over themselves trying to be.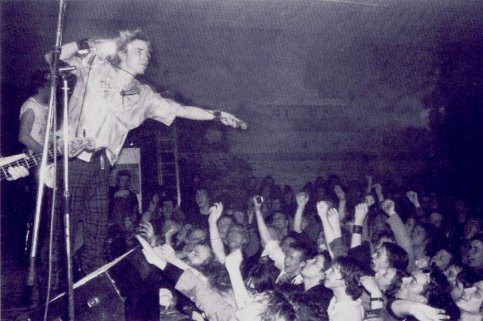 Jones to audience: "Spitting ain't in fashion no more, so don't do it!" The set was the regular selection, with the addition of "Belsen Was A Gas", which had only just been worked out (or so McLaren said afterwards). Musically it's on a par with any of the past singles; as far as the words go, I could only pick out the chorus of "Be a man, Belsen is a gas " (I think), and no one was giving anything away afterwards - so I guess guardians of public morality will have to wait until the New Year to see what treats are in store.
Of the old songs, "Anarchy" and "EMI" were the hottest, Rotten's voice and Jones' raunchy guitar between them building a solid wall of sound. The second encore, "Liar", was done with the house lights on - because "you've been looking at us all night, now we wanna see you." The audience, surprisingly - Groningen being a northern university town - was not made up of curious student types come to see a sensation, but was rather the kind of genuinely appreciative crowd you get at a British punk gig outside London.
There was no damage and no violence, just a lot of smiles and sore toes.
I spoke to the Finsbury Park Anti-Christ after the gig, and found him very unimpressed by existence. He was completely wiped out by fatigue (as was Vicious too), and saw no prospect of relief. The band's immediate intention seem to be to play the rest of the world, 600 people at a time. Any satisfaction Rotten may get out of what he's doing is being increasingly eroded by the sheer exhaustion he's experiencing, and by his cynicism about the image people expect from him. Oh, and by the way - the Pistols could be in your area this week. (Keep your eyes and ears open).
(John Hurst New Musical Express December 17th 1977)
Strathclyde University, Glasgow




Hope & Anchor, London

The Bell, London




WIRE

Marquee, London




Stockport, Lexicon Club




BLITZKRIEG BOP

Bowes Cellar, Darlington




DEAD FINGERS TALK

Rochester Castle, London




TONIGHT

L.S.E., London