1977

DATE INDEX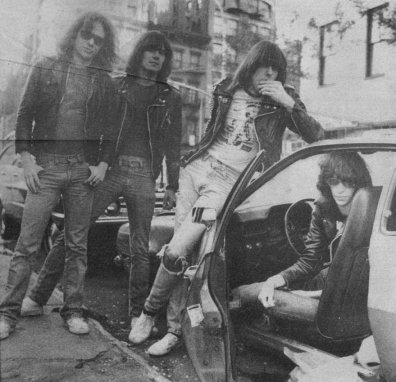 The Ramones release their latest single today and it's "Rockaway Beach" a tribute of sorts to the local beach in New York, yeah their is one! It's taken from their latest LP "Rocket To Russia" and is flipped with two old stage favorites, "Beat on the brat" and "Teenage Lobotomy". If you're among the first lucky 10,000 buyers of the UK single, you will also receive a limited edition poster of the Ramones...WOW!
THE RAMONES
Rockaway Beach/ Teenage Lobotomy/ Beat On The Brat (Sire)
If only The Ramones had more good tunes, they would indeed be the late-'70s answer to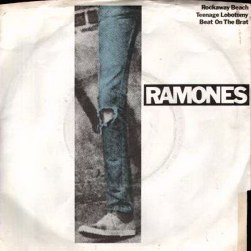 The Beach Boys. As it is, 'Rockaway Beach', a track from their latest elpee, 'Rocket To Russia', captures the spirit of The Beach Boys' paens to teenage life without showing that The Ramones have the necessary class to hit the dizzy heights scaled by California's most illustrious surfers in the days when they were a pop group. 'Teenage Lobotomy', from the same album, is less distinctive, just standard gobbing fare, while 'Beat On The Brat' is The Ramones' so-called classic from their first album. -
(NME December 10th 1977)
(Whaddya mean "so called", Teenage Lobotomy is another classic ya pinhead? - Don't Care). Another act from the Sire stable releae their product today.
THE REZILLOS
have their first single release since signing with Sire Records. It's the live favorite "(My Baby Does) Good Sculptures" b/w "Flying Saucer Attack." This one suffers from polite production that squashes out most of its energy, but both songs are great!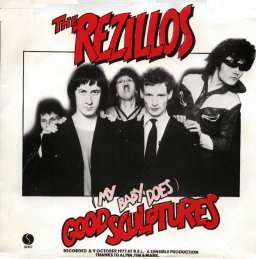 THE REZILLOS
My Baby Does Good Sculptures/Fly ing Saucer Attack (sire)
Debut Sire single from Scots new wave band (their first came out on their own Sensible label) and a double A side. Uncontaminated by London chic, The Rezillos (sharp name) show a good deal of originality, imagination and wit without going to bizarre extremes, and both A and B sides have a slrong pop feel. 'Flying Saucer Attack' is the most adventurous cut, featuring a quirky vocal melody sung in tandem by Fay Fife and Eugene Reynolds. 'My Baby Does Good Sculptures' is performed at breakneck new wave speed, and distinguished by both its arrangement and inventive lyrics. Hope this doesn't get lost in the rush to snap up 'Mull Of Kintyre' by record buyers this Yuletide. -
(NME December 10th 1977)

Wolverhampton, Laffayette
After tonights gig Saints Roadie Ian Ward was badly beaten up after contretemps with those amiable custodians of law 'n' dosorder commonly known as 'bouncers' (usually spelt b-a-s-t-a-r-d-s). He was scraped up off the pavement by Irish and John who saved him from probable robbery too. I've since heard that Mr Ward no relation to Algie Ward came back inside the club demanding money the band was supposedly owed and generally throwing his weight around...well he ain't in Australia now and he got his answer!
Sports Centre, Bracknell




Radio Stars

76 Club, Burton On Trent




Dell, College, Hamilton




ALBERTOS Y LOST TRIOS PARANOIAS

Trent Polytechnic, Nottingham




BONE IDOL

Brecknock, London

Kings Hall, Derby




The Adverts

University, Edinburgh




MERGER

ART ATTACKS

RCA, London




THE YACHTS

Corn Exchange, Cambridge




THE PIRATES

THE ONLY ONES

Central Polytechnic, London




THIN LIZZY

Odeon, Birmingham




WARSAW

Electric Circus, Manchester




NO DICE

Sussex University, Brighton




DEAD FINGERS TALK

Pegasus, London




LEIGHTON BUZZARDS

London College, London




STAGE FRIGHT

North Staffs Polytechnic, Stafford