1977

DATE INDEX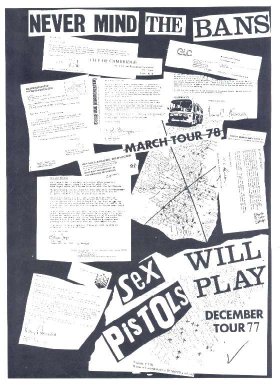 The Pistols are back on stage tonight for the first of the hastilly scheduled 'Never Mind The Bans' Tour of the UK. Again, dates on this UK tour were cancelled, following pressure from local police or politicians: in Aberdeen, councillor Margaret Williams opposed the Pistols playing in the city - she had heard that they cut up animals onstage and covered themselves in blood. And now the bans seemed - in the then fashionable reggae terminology - outernational. For tonights gig they're at Brunel University in Uxbridge, on London's very western perimeter. The group were powerful - paradoxically, partially because of the wilful lack of effort being put into his performance by John Rotten - but the atmosphere was poisonous, created by the visible and arrogant air of violence emanating from (a) those members of the university rugby club hired as bouncers, and (b) the increasingly pathetic and transparent onstage psychosis of Sid Vicious. There was a sense of utter internal disarray, of deep unhealthiness. A
long wait for the doors to open and disgruntled punters. So things were in an unstoppable downward spiral, which as we know was how the band functioned best! Full review
HERE!

"Welcome to the most dis-organised gig I've ever been to, I'd like to apologise, I'll get the cunt responsible". - Johnny Rotten (Uxbridge)
have been the focus of recent rumors that they had split up, but it couldn't be farther from the truth. Chelsea have re-emerged from a break with a new second guitarist (Dave Martin) and a new single on Step Forward Records. The single is "High Rise livin" b/w "No Admission." They'll be undertaking a UK tour in the new year.
Heres' what the New Musical Express thought...
CHELSEA: High Rise Living (Step Forward)
As London new wave bands go, Chelsea perhaps lack the raunch of acts like Shepherds Bush, Willesden, Stoke Newington, Acton, Islington, Ilford, and Ruislip. Still, their analysis of the tower block way of life is potent enough, as witness the depth of their sociological insight:, "High rise living gets me down, down, down." There, in a single sentence, is the nutshell of the " contemporary impasse. Without the likes of Chelsea to guide us, we'd be forced to turn to the Neil Diamonds to show us the way.
(New Musical Express December 17th 1977)
Corn Exchange. Cambridge




New Regent, Brighton




Rochester Castle, London




THE RICH KIDS

Barbarellas, Birmingham







Radio Stars

Dixeland Showbar, Colwyn Bay




THE BEARS

HOHNNY CURIOUS & THE STRANGERS

OUTCAST

Arts Centre, Hemel Hempstead




MOLESTERS

Red Cow, London




PUNCTURE

The Basement, London




WOODY & THE SPLINTERS

BLUNT INSTRUMENT

Susan & Sugar Loaf, Croydon






URBAN DISTURBANCE

Nags Head High Wycombe




MAGAZINE

Eric's, Liverpool




WIRE

Leees Cliffe Hotel, Folkstone




MOTORHEAD

Lafayette, Wolverhampton




SNIVELLING SHITS

Hope & Anchor, London




THE FALL

MANICURED NOISE

ELITE

St Johns College, Manchester




College Of Technology, Lincoln




BETHNAL

the killjoys

Marquee, London




RADIOACTIVE MORONS

L.S.D.

VILE BODIES

Courtyard, Bicester




DEAD FINGERS TALK

Pegasus, London




ALBERTOS Y LOST TRIOS PARANOIAS

Strathclyde University, Glasgow