1977
DATE INDEX
TALKING HEADS
latest 45 is out called "Psycho Killer." It's taken from their debut album and is flipped with a non-LP acoustic version of the same song, with different lyrics. Jon Savage who reviewed the single for Sounds wrote, "Perhaps the perfect Talking Heads song, in which David Byrne's electrocuted Anthony Perkins' persona meets the subject matter." The 12" version of the single includes another non-LP track, "I Wish You Wouldn't Say That." The song is one of the first songs that the Talking Heads wrote back in early 74 when they were called the Artistics.They are currently on a West Coast tour of the USA. Here's the review from NME...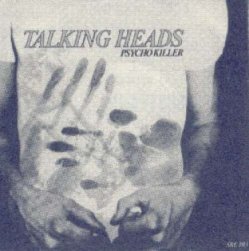 TALKING HEADS
Psycho Killer (Sire)
We here at The Boomtown Rats say that we're tense and nervous and we can't relax. Que'ce que c'est? Talking Heads wired on the edge, taut and psychotic with two versions of the best track on their debut album. I was feeling quite pleasant this morning before I heard this. Forget your Voidoids, this is music for the Schizoids. Guitars that jangle your nerve ends, the bass (Hello Tina) pushes you somewhere you didn't feel like going today and the snare keeps hurting behind my eyeballs. Doc - I - can't - sleep - pass - me - the -valium. (Hello, hello, can I get a word in here, Bob? This is Pete Briquette and we here at the Rathaus say there's too much bloody French in that last record.) Que'ce que c'est, Pierre?
(Bod Geldof/Pete Briquette - New Musical Express December 3rd 1977)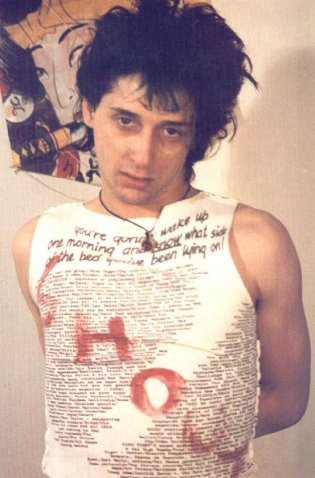 Without a record company to support them, or the five-year old nucleus partnership of Johnny and Jerry, the band finally fall apart. Whilst Johnny stays in London, to lig and play guest slots Billy and Walter fly back to New York for Christmas, not to return. Jerry has formed a new outfir called The Idols. A possible new record deal with CBS collapses, and Leee quits as manager.

Stokuishal, Arnham, Holland.


Polytechnic, Huddersfield


Locarno, Coventry

The Garden, Penzance

Rafters, Manchester
THE SKIDS
Burnt Island, Hall Circle
WIRE
Mar Digbys, Birkenhead