1977
DATE INDEX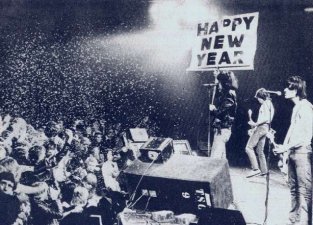 The Ramones bring in the New Year with their concert tonight at the Rainbow that is being recorded for their live LP 'It's Alive'. The crowd is going nuts and the band is in top form. Joey's even been writing some new songs one em being "I Wanna Be Sedated" inspired by their bleak stay in good old blighty during the recent Christmas holidays. For the full review go
HERE
.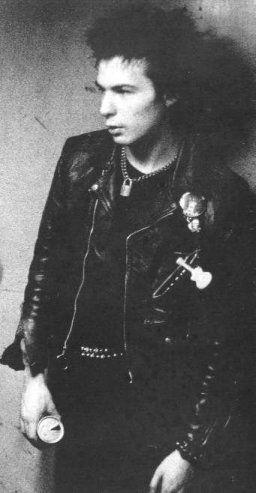 Amongst the punk celebritys in attendance at the Ramones gig is unstable Sex Pistol Sid Vicious, who makes his presence felt and bids farewell to London by picking a fight with the singer of the Lous (a French ALL-FEMALE punk band). Nice one Sid (tee hee).
FAREWELL TO TH ROXY ALBUM RECORDED
'FAREWELLTO THE ROXY' is the name of the latest 14-track compilation spin-off recorded live at the Covent Garden home of punk tonight and the following 2 nights. An array of unknown and not so unknown punk talent are making their recording debut for a future release on Lightning Records around April 7th 1978.
The tracks, recorded on December 31, 1977, and January 1 and 2, 1978, respectively are: (side one) 'Strange Boy' - Blitz, 'Smile and Wave Goodbye' - Acme Sewage Co., 'Relics From The Past' - Billy Karloff & The Goats, 'I Live In A Car' and Telephone Numbers' - U.K. Subs, 'Get Yourself Killed' - The Tickets, 'Never Wanna Leave' - The Red Lights. Side two comprises: 'Here Comes The Knife' - XL5, T.V. Drink' - The Jets, 'Sniper' - The Streets, Tough On You' - Plastix, 'Fun Fun Fun' - The Bears, 'Vertigo' - Open Sore, 'Lullabies Lie' - The Crabs.

More Bad news for Damned:
new drummer in crash
THE DAMNED'S new drummer John Moss was seriously injured in a car crash on New Year's Eve. John was in a car with DJ Johnny Rubbish which collided with another vehicle.
He broke his nose in the crash and had to have almost a 100 stitches in his face at the Royal Free Hospital, where he was detained for a week.
Dave Burke, drummer with Johnny Moped, will replace John for The Damned's forthcoming gigs in the New Year, but John hopes to be back for their German dates at the end of January.
Leisureland, Galway




THE VALVES

Nicky Tams Tavern, Edinburgh




Hope & Anchor, London




DEAD FINGERS TALK

Rochester Castle, London

Marquee, London




BRENT FORD & THE NYLONS

The Stonehouse, Bristol




THE CRABS

Centre Halls, Woking




THE DESPERATE BICYCLES

Erics, Liverpool




WARSAW

Swinging Apple, Liverppool

THE END
Well thats it for 1977...'78 WILL HAVE TO WAIT. I need a rest!
I missed out a helluva lot due to lack of resources, space and time. So my appologies to the bands, individuals who are abscent, if I knew about em I would've included. Also to all the European/US punk outfits not documented, you'll have to dig up your own historys on those. Hope everyone enjoyed this look back at the Year where PUNK broke out in to the mainstream...2oth Century Punk Archives my next big project is now a reality!
Special thanx go out to all the Punks and individuals who wrote, took pictures and were just there to document all these facts in books, mags on records in zines and on film. I used the majority of info outta my own 25 year collection and gave credit for outside sources where known....
MAGS
Sounds, NME, Melody Maker, Record Mirror, Mojo, Record Collector, New Music, Total Guitar, Spin, Adam Ants catalogue, Spiral Scratch, Underground, Zig Zag, Q Special, The Suffragette (zine) , NME Originals Punk, MaximumRockNroll, Ramones (UK zine), Private World (zine), Vox.
BOOKS
Destroy, Punk: Illustrated History, Not Another Punk Book, Satellite, Sex Pistols File, Up They Rise, Sex Pistols Diary, Chaos, Punk Diary 70-79, 1988, Vacant, Damned: Light At The End Of The Tunnel, And God Created Punk, 100 Nights At The Roxy, Clash songbooks 1& 2, The Clash, Last Gang In Town, Rotten: In His Own Words, The Boy Looked At Johnny, Stranglers: Song By Song, The Jam: Our Story, Q Book of punk legends, Englands Dreaming, Shockwave, Sniffin Glue Bible, Siouxsie And The Banshees photo book Ray Stevenson.
WEBSITES
Damian: The Screamers - The Jam, - Jonas Warstad: Ultravox site - Ian Apperly: Prefects - Shotbybothsides: Magazine - Aart for a change (?) - Wayne County (UK site), Damned (?), The Stranglers (?), Roxy history (?), Penetration, Johnny Thunders (?), Spizz, Iggy Pop (?), Adam & The Ants (?), Search & Destroy (magazine), Break My Face.
PERSONNEL
Erin (Texas Punk Junk) - Pab from USA - Denise from LA for the Weirdos - Jet Rash from LA - Joe Donnelly (Belfast) - Mandy (MDM) - Colin Purdew (Cambridge) - Alistair Cambell (Ultravox fan), June Icon (Diary Extracts).
THANX
Peter Don't Care