1977

DATE INDEX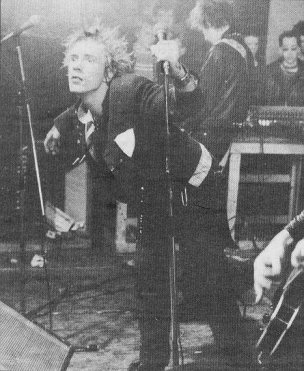 Pozjet Club, Tilburg, Holland.
The Pistols are still under British press scrutiny. Gloria Stewart from the Daily Mirror newspaper follows them for 4 days which resulted in a centrespread on the band and probably their first non-sensationalist interpretation. Here's what she witnessed at tonight's show....
"THE SEX PISTOLS erupt into action on stage. Singer Johnny Rotten alternates between singing and shouting. He flings words around like stones.
The place is packed. They roll through their numbers. Each of the fast tunes gets the crowd more excited.
Rotten tells the audience to dance. He swings his arms in a circular motion. Half the time he is bent double. Sometimes he sings sitting down. It is all very powerful. Vast amounts of energy are generated by the band and by the audience, who are packed close to the stage. Vicious spits at the audience. They retaliate. Beer is thrown, spraying the band. There is no violence." Top Rank, Brighton

THE MEAT

Civic Hall, Orpington, Kent







Mountford Hall, Liverpool




Town Hall, Torquay




Academy Of Art, Bath




THE AUTOMATICS

University, Keele




BETHNAL

TONIGHT

Music Machine, London




THE YACHTS

Apollo, Glasgow




SPEEDOMETERS

Rochester Castle, London




THIN LIZZY

Gaumount, Southampton




Royal Hotel, Luton




THOSE NAUGHTY LUMPS

Havanna Club, Liverpool