SATANS RATS
Lafayette, Wolverhampton
Sex Pistols proposed gig at Bristol, Bamboo club is cancelled because of a mystery fire that happened on Sunday (18th). So the band play Wolverhampton, Lafayette club instead. This gig was very important for me as it practically changed my life. First 100 through the door got a poster (see right). December 21st 1977 also saw the Sex Pistols nominated as 'Young Businessmen of the Year' in the Investors Chronicle .

The Damned, along with
The Adverts, The Rich Kids
and
Generation X
were due to appear on the TV programme
Impact,
due for transmission on today. It was recorded with live footage in the studio but remains unshown. For the record The Damned performed Neat Neat Neat, Problem Child and
Fan Club.
The Damned
are hitting on hard times and times just got harder. They have recently weathered a tour with marginal attendance,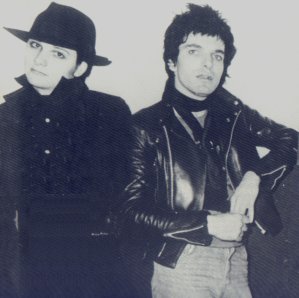 rumors about their iminent break up and the loss of drummer Rat Scabies. Now they're faced with the loss of their recording contract with Stiff Records, as well as management by Dave Robinson.
Stiff dumped them for a lack of street credibility and lame sales figures on Music for Pleasure. "This is a record company, not a museum." said a spokesman.
Even the industry, by this time, was beginning to note that The Damned were having problems. Both NME and Sounds ran articles which questioned the future of the band. Even Peter Barnes, their publisher and loyal supporter, felt that "it looked as if The Damned had written all they were going to write". Stiff records decided to rid themselves of what they considered to be a sinking ship.

"When we first signed them, they fitted the Stiff image which was fun rather than serious music. We were interested in them more than in the music, although 'New Rose' changed that and the first album was just fantastic. The Damned at that time was Brian's. Dave just enjoyed playing Super-Dracula. Then Rat and Captain really started coming forward as personalities and they decided they should have more of the decision-making. At the time of 'Music For Pleasure', which was a bit more contrived than the first album, they weren't getting on at all."
(Dave Robinson - EX-Damned manager)

"It had grown into such a mess that we'd gained the reputation of a vaudeville act. The fact remained that some of us wanted to play music and some of us preferred to mess around with custard pies."
(Brian James - The Damned)
Apollo, Manchester




MENACE

Marquee, London




Barbarellas, Birmingham




SPIZZ 77

KT DISCO

Golden Eagle, Birmingham

??

who knows who

THE ZONES

THE KILLJOYS

SUBWAY SECT

Music Machine, London

Electric Circus, Manchester




WIRE

Spooky Lady, London




Audition Night:

Smack

Hampsters

Berlin

Roxy, London