New York's leading New Wave venue, CBGB's, opens a second front with week long festival.
DAN OPPENHEIMER reports on the activities of its first week.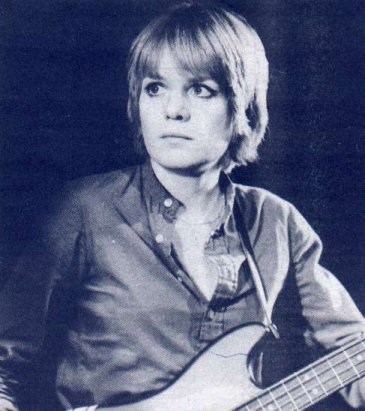 CBGB's SECOND Avenue Theatre, formerly the Anderson Theatre and at one time the setting for a live Yardbirds recording, opened to a packed house on Tuesday, Dec. 27th.
The show, which featured Talking Heads, started an hour-and-a-half late and close to 2000 fans tried to keep warm in the unheated, semi-refurbished theatre that was designed to hold 1600-1700 comfortably.
But this was a rock 'n roll show and the empathy between the Heads and the sandwiched holiday crowd set a good precedent for the venue. Conditions improved during the week. By Saturday night, New Years Eve, the house was full again and warm, and Patti Smith performed the last of three stupendous shows that quickly erased any doubts about her first major public appearance in New York City since she fell from a stage and injured her neck early in 77.
Rockin' Rudnick, a rock critic who helped found Cream magazine, M.C.'d the affair for the first five days and summed up the week in a short speech delivered that first night.
"Hilly Krystal had a commitment to rock 'n' Roll New York City," he said of the theatre owner who still retains the original CBGB. "We weren't ready. We couldn't get electricity. We had to set up generators out back. You know the heat's not working. There's dirt on the floor and floods in the bathroom. But you came to rock 'n roll and we're gonna see that you do." Shortly thereafter the house began to rock.
It was unfortunate that, of four bands scheduled to play that night - Talking Heads, Tuff Darts, the New Luna Band and The Shirts - only one was good (Talking Heads) and only three of them got to play. Tuff Darts, labelmates at Sire with Talking Heads were axed after the late hour necessitated a quick political move by the Sire execs. They thought, rightly so, that most fans had paid to see the Heads. The Shirts and the Luna band are another thing altogether. While the Tuff Darts have been a consistently diminished band since the departure of singer Robert Gordon, they still rock harder than The Shirts, local favourites from nearby Brooklyn who, coinci-dentally, are managed by Hilly Krystal, and Luna, a group with aimless direction and a feeble instrumental emphasis. Neither group is ready for concert hall appearances, though The Shirts are easily more likeable, and they should be sent' back down for seasoning.
Talking Heads battled a bashful, muddy sound system, succeeding to the point where leader David Byrne could be said to have enjoyed a rapport with the fans, who possibly even managed to understand his psycho-intellectual lyrics amid upstart electrical noises.
He stuck closely to their highly original debut album, but many of his performances sounded tired, either because he was launching into yet another oft-repeated set, or because he was more distressed about the sound than he appeared. Much of his new material, which came later in the set, was very exciting and here his nervous vocal flights came into full play with Tina Wymouth's clean, expansive bass playing.
I begged off tor the second night so as to avoid a rock 'n roll O.D. by Saturday and missed a spectacle that perhaps made the theatre better.
Steel Tips
had played first, a very visual novelty group with a schoolgirl sharing vocals (she looks 13 but claims she's 22) with a massive sweaty guy who looks like he got hit in the face with a bag of nickels.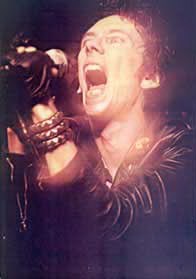 Then the
Dead Boys,
less than amused at the lack of a sound check (they couldn't complain to their manager, who happens once again to be Hilly Krystal), and without guitarist Jimmy Zero (he was sick at home in Cleveland) took the stage in no mood for bad jokes. It became apparent that the sound system was again incorrigible. Cheetah Chrome and company proceeded to trash the stage, leaving drums and assorted equipment littered about as many fans left. The band have since decided to play a free concert at the theatre to make it up. According to Rockin' Rudnick, though,
The Dictators,
equal billed with the
Dead Boys
, were inspired to come out and play what he called "the set of their lives." "I'm not even particularly a fan of theirs," continued Rudnick, "but that had to be the most exciting set I've ever seen them do. I think they felt responsible to the fans even though the
Dead Boys
had a legitimate complaint. "
The Dics
just got up there and played their asses off."
By Wednesday the woeful sound system was banished and a slightly better one installed temporarily until a permanent system could be acquired. Again, and for the last time that week, a poor opening act started the show, the group Mars, handled by Ork Records mentor, Terry Ork. He exerts some influence on Hilly Krystal but the real culprit was Patti Smith, who was given the privilege of picking her own opening acts. Beware of Mars, a phony avant-garde rock group that is really a bunch of tuneless geeks in disguise. Richard Hell and Patti followed, but both did better sets the following nights.
All three groups were excellent on Friday. The heat was on and the sound Commendable. The Erasers, with Susan Springfield fronting the fast-improving and engaging company of Walter Lure's little brother Richie on lead guitar, the statuesque Jody Beach on bass and Jane "Ferocious" Fire on drums, adapted nicely to their first concert hall appearance. In fact, they came off better than at home ground CBGB 1, and I'd venture to say they did their best set in the new place; its only fault was its brevity. Richard Hell turned out a professional if unremarkable set including "You Gotta Lose" and Iggy's "Now I Wanna Be Your Dog". Guitarist Bob Quine, celebrating his birthday that night (as was Patti) took some sterling guitar breaks, especially on "Blank Generation".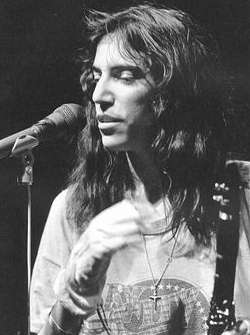 Their reception was dwarfed by that of
Patti Smith,
who came running onstage, radiantly ready to rock, read poetry, instruct the kids and shake the most conceptual ass in the world. As had been rumoured throughout the night,
Bruce Springsteen
joined her towards the end of the show to sing and play guitar on "Because The Night", a song" for which he wrote the music to Patti's lyrics. (It will be included on Patti's forthcoming album).
City Fire Marshalls entered the place around midnight, having received complaints about the generator noise out back, and preceded to close it down. Undampened, Patti returned the next night and repeated her jump-rock performance, jamming with Richard Hell and Richard Lloyd from Television.
The spirit that overtook the place through the week would have gone for naught had continual improvements not been made. But after the final night's set, Hilly Krystal announced that the theatre would reopen January 26th with a new permanent sound system (to the tune of $30,000) and other rough edges finished. And the theatre's existence raises other questions: what will happen to CBGB 1? Has one scene passed and another begun?
(NME January 21st 1978 - DAN OPPENHEIMER) ALBERTOS Y LOST TRIOS PARANOIAS

Marquee, London




Audition Night

LAST RESORT

G.B.H.

Roxy, London

The Adverts

El Seven

100 Club, London




BETHNAL

Babarellas, Birmingham




THE CRABS

Sunshine Rooms, East Dereham