1977

DATE INDEX


Ivanhoes, Huddersfield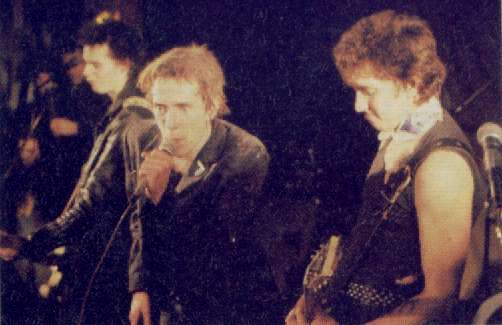 JOHNNY ROTTEN
as Santa Claus - the mind boggles. But John will be playing Santa for children from an orphans' home at Huddersfield Ivanhoe Club today. Sid will become Sid Charming for the day and attempt to fit a glass lager can on Johnny's foot. Over 500 invitations were sent out and Virgin has arranged for busses to bring in the children to the Ivanhoes. There's also 1,000 bottles of soda pop and a huge cake brought in. The party lasts between 3pm and 6pm for disco, tea and the Pistols. There's also an evening show that's not so reserved. In jovial spirits Rotten dived headfirst into the Christmas cake, setting off an expansive food fight. In stark contrast, after the show had ended and the children had left, Sid and Nancy were filmed in what Sid described as a 'pornographic movie'. 'You know, dominance and submission, sucking and fucking,' said Nancy.
This gig was to be their last ever British gig with Sid in the line-up. This performance includes Sid Vicious doing versions of 'Born To Lose' and 'Chinese Rocks'. Leftover turkey sandwiches are later given out to fans queuing for the evening performance. In the evening the band play for 1 hour 20 minutes (17 songs) 'God Save The Queen'/'I Wanna Be Me'/'Seventeen'/'New York'/'EMI'/'Belsen Was A Gas'/'Bodies'/'Holidays In The Sun'/'No Feelings'/'Problems'/'Pretty Vacant'/'Anarchy In The UK'/'No Fun'/'Liar'/'Belsen Was A Gas'/'Submission'/'God Save The Queen'. The gig is also recorded on the mixing desk by the sound man 'Boogie' and Julian Temple filmed it. For the full story of the days events go
HERE
.
Meanwhile at the grotty Roxy in London, a 48 hour punk marathon gets under way featuring an array of the lesserr known bands of the day.
DEAF SCHOOL

SPIZZ 77

Barbarellas, Birmingham

THE SKIDS

Kinema, Dunfermline