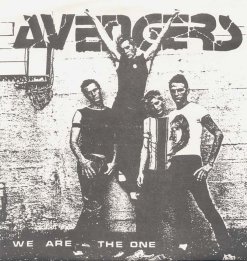 December was an important month for the Californian punk scene with some important releases. From San Francisco came the Avengers fronted by the charismatic Penelope Houston, The Avengers were San Francisco's finest in 1977. The group avoided straight Ramonic thrash for Pistols-inspired tension and release - showcased in no better form than on their definitive statement of the 'too fast to live, too young to die' ethos. Houston's casual brutalities - "Look at you, baby/ You lost your head" is rammed home by a super-fierce band performance which, like all the greatest rock, accelerates into catastrophe. They release their debut 45 on the brand new Dangerhouse label based in LA. This new label formed from a few like minded punks also saw the release of Black Randy & Metro Squad and The Randoms out the trap previously, but it was the third release by friends from up the coast, the Avengers who put the label on the punk map.
Writers: Penelope Houston, Greg Ingraham, Jimmy Wilsey, Danny Furious Producers: Rand McNally Personnel: Houston (vcs), Ingraham (gtr), Wilsey (bs), Furious (drs).

"Our music intensely physical, that's where our songs strike. It's the most physical, sheer body music." - Jimmy Wilsey, 1977
Here's what lead singer Penelope Houston had to say ...

"Dangerhouse was run by a bunch of guys and some of them were friends of mine. It was K.K. who was in
the Screamers
and David Brown who was in the
Screamers
once playing synthesizer, there was
Black Randy
, famous on his own and um...oh
Bob Dead
, and
Pat Randall
, uh....
Rand McNally
. All of them were there at the recording. They were all singing on the chorus of "We Are the One" I think it was. It was pretty funny. It was recorded in Los Angeles at Kitchen Sink Studios. We did 3 songs in 10 hours or something like that. There was a guy there engineering it. He came with the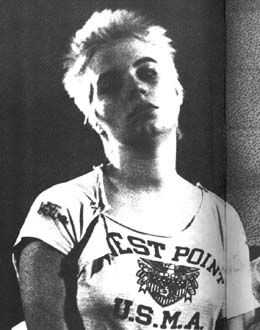 studio. He actually did his own mix of "Car Crash" that had police sirens in the background. I'll never forget that. Of course, we didn't put that out but I'm sure it's around somewhere. It was my first time in a studio. It was really terrifying. When we did "I Believe In Me, we just did a test vocal to record the tracks along with and when it came to do the vocal I just said to leave that one on. I was too nervous to go in and do it. And it was so sorta spur of the moment as you can tell if you play that one it's a... everything was made up in the top of my head. The record came on black and red vinyl. Dangerhouse went in and the company had run out of black vinyl and they said "Well we have to have these pressed." [The pressing plant] said "Well, you can have it on red vinyl." So there it was." (
Penelope Houston:
Quote from
Break My Face
)
Break My Face:
First pressing: crucifix sleeve, 500 pressed with incorrect "33 rpm" on label, Second pressing: target sleeve, red vinyl. Third pressing: target sleeve, black vinyl.
| | |
| --- | --- |
| Apollo, Glasgow | With Johnny Rotten sufficiently recovered from flu they return to schedule at Knikkers in Keighley |

WIRE

SATANS RATS

Affair, Swindon




THE MEMBERS

REACTION

CANE

THE DRONES

Vortex, London




THE RICH KIDS

THE CRABS

Mr Pickwicks, Dewsbury




MENACE

RAPED

Railway Hotel, London




THE PREFECTS

THE ASSASSINS

Golden Eagle, Birmingham