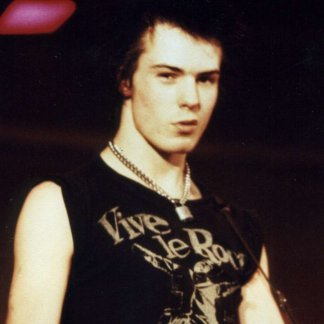 are off to Holland for ten days playing the Eksit Club in Rotterdam tonight. Opening song: 'God Save The Queen' is followed by 'every' song the band has ever recorded (barring 'Did You No Wrong') including 'Flowers Of Romance' and 'Belsen Was A Gas' and ending with 'Anarchy In The UK'. According to Sid Vicious, it is the best gig the Sex Pistols have ever played! Sid's troubles (Nancy & Heroin) are forgotten for the moment, and the distraction of a tour would be a good way to get their minds off of the internal problems.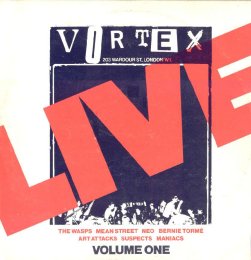 "LIVE AT THE VORTEX!"
In keeping with the live compilations connected with clubs like The Roxy and CBGB's, The Vortex have their own vinyl document out today.Most of the bands are currently unsigned although some are about to sign on the dotted line and The Wasps, who have a one off single on 4 Play Records out already plus the Maniacs who are now with United Artists. It contains tracks from regulars of the club, but not the absolute best of their live bands as this reviewer so candidly points out. Side one starts off with The Wasps' "Can't Wait Till 78," and then proceeds with songs by Mean Street, Neo, Bernie Torme and The Art Attacks. Side two begins with Bernie Torme again, then The Art Attacks, Neo, The Suspects and two songs by The Maniacs.
VARIOUS Live At The Vortex (NEMS)
THE VORTEX replaced the Roxy as London's name punk, etc. venue (which means little, probably nothing, to most of us...).
The club epitomises all that is a pitiful disgrace about this new media monster/low humour subject, the soak-up, the slit-eye manipulation by the slickers our music will always attract.
The Vortex - and specifically its management's cash-orientated aims concerning expansion into all things avant-punke (fanzine, venue, coffee bar, record shop, record label) - is a sadly authentic representation of what has happened on the top-surface these last few months.
This album is a ragged, unlistenable display of hopelessly lost direction. An epitaph, hopefully, to the chaos and suitably damply defiant. If the Roxy album was a five-colour, fondly nostalgic rip-off then this album is a stark black and white warning, all the more useful for that. The wagon is in little splinters under the weight. It's time to think. Alert onlookers will sniff around the wheels of other wagons .... "Nothing is so valuable that it need not be started afresh, nothing is so rich that it need not be enriched constantly . . . .".
The ingredients and the groups involved here (the players could be mechanical for all the emotion emitted - clone worship) are either obviously in the early stages of development with traceable nuances of nervous ideas tied to pre-packed ideologies (Neo and Art Attax) or else as set as they're ever going to be and hopelessly derivative/static and angry without cause, solution or alternative (Bernie Torme, Suspects, Maniacs).
Meanstreet are just Status Quo taking everyone's advice and metamorphosing discreetly into 'punks' (surely!). The Wasps intrigue. By virtue of execution they belong with Torme, Suspects and Maniacs - - - routine rotating riffsaw. They start the album with "Can't Wait For Seventy Eight" which, as the title suggests, is refreshingly optimistic and it's a lumpy Ramones-ish stomp that hints at some kind of pop sensibility. They ruin this energetic charge towards some light by later that side cockily chopping out a desperately weak "I'm Waiting For My Man". They should be allowed time to develop/formulate. Time! Everyone's in so much of a hurry (getting in before 'everything' dies down? Doesn't exactly give the listener great confidence).
Elsewhere Buzzcocks are a great example of strolling along, making sure everything's straight, and still doing things before everyone else. Neo and Art Attax should travel through a few months', hard thinking and playing and evolve into something worth recording. Their appearance on this suffocating album could well disrupt them, should certainly embarrass them and definitely won't help them. The reason they're on it must be their naivety and they'll surely regret it. Neo are tentatively alert/art/angular, but their neat vocal and instrumental phrasing are draped around too many ugly bass riffs. They've a long way to go. Art Attax appear as humans playing at robots playing at humans. Harsh humanistic-mechanistic assault and imagery but too reliant on thrash and blatant accessibility. They should inject braveness and disregard dragging rock confines.
If Neo and Art Attax at present possess false sentiments (duty?) to produce material that alienates most passion for creativity, at least they wear a cloak with a pattern of some sort of future. They don't excite but they stand well above the claustrophobic and reactionary; rest.
From the latter, aggressive, ponderously flamboyant wedges of sound for the ambitionless/ terminally depressed/almost dead. Defiant muzak. The defiance of self-pity and contrived hopelessness. The muzak of taut control. Muzak that lacks wonder. The barely discernible promise of Neo and Art Attax comes nowhere near to making up for the overall crass repitition and undernourished voyeurism of this album. It is insubstantial, irrelevant and should appeal only to friends and families of those involved.
This is the end of 1977. The best of the year has yet to be fully documented. The worst (a sample of. . .) get a good airing on this album. The words for '78 are moral fibre, attitude, spontaneity and threat. (I reckon it's going to be a good year!)
(Paul Morley New Musical Express December 10th 1977)
Village Bowl, Bournmouth




WIRE

BETHNAL

Nashville, London




WAYNE COUNTY & THE ELECTRIC CHAIRS

ALTERNATIVE TV

Outlook, Doncaster




THIN LIZZY

De Montford Halls, Leicester




STAGE FRIGHT

Drakes Drum, Birmingham




THE MONOTONES

Rochester Castle, London




THE PREFECTS

SHOCK TREATMENT

Golden Eagle, Birmingham

Top Rank, Southampton




SIOUXSIE & THE BANSHEES

Outlook Club, Doncaster




Hope & Anchor, London




STEEL PULSE

THE JERKS

Pickwicks, Dewsbury




DEAD FINGERS TALK

NEBULA

MISTER SISTER

THE CADETS

Middlesex Polytechnic, London