1977

DATE INDEX

NO DICE
LYCEUM
GREAT, IT'S at The Lyceum. Trust Tom Robinson to know the best venue in town for the triumphal homecoming...No T-shirted 'security' apes bouncing kids off the backs of seats at the first prink of a pogo...no seats at all downstairs in fact...two bars constantly open... like I say, the best venue, as evidenced by the great Marley and Stiff shows I've witnessed here, both of which were recorded for live album posterity' same as tonight's show will be.
I arrive at half past nine - excellent timing, missing that cruddy second-rate mainstream four-piece that EMI are trying to hype into something special. Nah, that's pure bigotry, I never even seen 'em, but if their demo tapes on the Alan Freeman show were anything to go by...Weird audience this...can't figure 'em out at all...some punks, some gays, lib front fellers, pop kids, anonymous squelching masses, straights, some long-haired freaks (who've rather unconvincingly swapped idiot dancing for the pogo), plenty of earnest looking lefties, gaggles of under assistant junior executives swanning around with their vodkas...huh, didn't see them down The Stapleton and, The Brecknock last' winter for the TRB.
Oh well, never mind bitching, be thankful the TRB are gettin' a wider audience. They sure as hell deserve it...how to make it and remain human...still, sure am glad that I'm not reviewing this gig, wonder what Kent'll make of it all. That's funny, I ain't seen him here... Ah, here's the band. Straight in with a fast 'un, blimey, "Motorway" already still sounds good. Great single, must have mixed it on a car radio speaker. Oh yeh, light and bitter please. The audience is going apeshit, thundering the choruses, punching the air and waving their scarves like they were straight off the North Bank... - terrace chic, huh?
No doubt about the secret of this man's success; he just radiates charm. And warmth. And commitment. You can tell he's got flu though, his voice can't hold the highs. Lotsa smiles, plenty of passion, hey he's doing "Winter of '79", great protest song this, probably his best number. Robinson spits it out with plenty of venom, you can really feel his pain! "Glad To Be Gay" - another of his best . . here, what's he doing this music hall bit in the middle for? Wish he'd leave that to Ray.
Band are good though. I still think the drummer's like early Carl Palmer, and Danny Kustow has to be one of the best rock guitarists to emerge this year; just as well really 'cos Tom still spends as much time waving his hands in the air as does playing his bass, maybe he should recruit a fifth TRB member...Well, what can you say about this gig? Just the proverbial blinder really. Christ, he's still doing "Waiting For My Man" on the encore . . . and still lousing it up ... really it's just like a giant version of the Brecknock in here tonight.
Great gig this ennit? I ennarf glad I haven't got to review it though. He's a complex phenomenon is Tom Robinson.
(Neil Spencer - Mew Musical Express December 17th 1977)

return to Britain tonight with another couple of bookings and plan to return for a full British tour in the spring, following the enormous success of their recent debut visit - which included a string of five nights at London Hammersmith Odeon, during which they broke the house record for a concert engagement of an equivalent duration.
Commented promoter John Curd of Straight Music: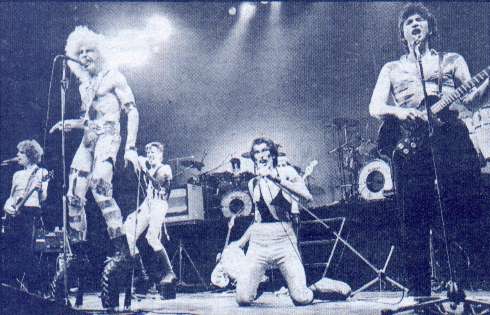 "They could easily fill a couple of nights at Wembley Pool or Earls Court, but I don't think they are suitable venues for The Tubes, so I'm taking them back to Hammersmith where they've already proved themselves." Support comes from WIRE. Fusion Ballroom, Aberdeen




Radio Stars

RITZ

Nikkers Club, Keighley




ONLY ONES

Hope & Anchor, London




CHARGE

Western Counties, London




Maastricht, Holland




Top Rank, Cardiff




Penthouse, Plymouth




SIOUXSIE & THE BANSHEES

F. Club, Leeds




THE YACHTS

Odeon, Edinburgh




Nashville, London




ADVERTISING

Rock Garden, London




WAYNE COUNTY & THE ELECTRIC CHAIRS

ALTERNATIVE TV

New Ace OF Clubs, Leeds




TONIGHT

Rochester Castle, London