release their second album today in the UK. It's "This Is The Modern World." If the first album had been applauded in more quarters than not, the second 'This Is The Modern World' provided the band with their first hitch. With the unexpected success of 'In The City', pressure was mounting from Polydor to exploit the commercial potential of the band. And it meant they got another £20,000 advance.
The second album started its life in bizarre fashion. Chris Parry from Polydor Records had come up with the bright idea of sending them to a farmhouse in the middle of nowhere to give Paul's song-writing fresh inspiration. It had the opposite effect. Completely without distraction, Paul, Rick and Bruce merely spent their time in the local pub, which was about the only other feature on the landscape.
Eventually the band cut their losses and began work in Basing Street Studios, Notting Hill, in August 1977. However, the frustration did not end with a change of surroundings. Basing Street was a positively 'pokey' studio by modern standards, and Paul could not get his Rickenbackers in tune. Although the faithful Rickenbacker undoubtedly suited Weller's sense of style, he might have tempered his original penchant for the guitar had he known how difficult it was to keep in tune. By the recording of The Jam's second album he was not beyond smashing one or two up when they proved particularly troublesome.
Just six short months after their debut they presented 'This Is The Modern World' to a nation, bedecked in a moody photograph, with the tower blocks of West Way London in the background. The LP contains their current top forty single "The Modern World" as well as tracks such as "Standards," "In The Street Today," "London Traffic," and "Here Comes The Weekend". But unlike their debut, the songs had not been thoroughly road tested and it showed.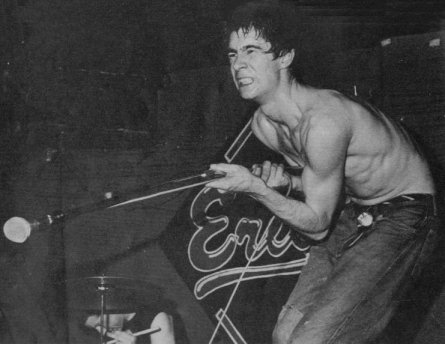 THE MYSTERY GIRLS
Eric's, Liverpool
The Adverts
Top Rank, Reading
BETHNAL
Harveys, Ross On Wye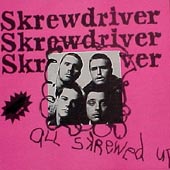 Skrewdriver's
debut album "All Skrewed Up" is released today by Chiswick Records. Chiswick are not a label shy of trying some marketing ploy and had the record out in two different pressings. The initial 3,000 have the disc spinning at 45 rpm with a total of thirteen songs. The rest of the pressing reverts to 33 rpm with fifteen songs. Now a fully fledged Skinhead band the titles include the single "Anti-Social" as well as "Government Action".
SKREWDRIVER All Skrewed Up (Chiswick)
FOR YEARS, Blackpool has laughingly been compared (by the Town Hall entertainments office) with Las Vegas. For a town whose motto is "Progress", Blackpool also has the dubious distinction of (just a few years ago) banning all outdoor rock events for something like twenty years. I don't believe the act has ever been revoked.Not only have there never been more than three or four half-decent bands working out of Blackpool at any given time, but unless you adopt the pose of a human juke box, there's practically nowhere to perform. Being a Northern Soul fortress also cuts back on the number of 'live' venues. As a transient denizen of that coastal resort, I speak from experience.
Apart from records, the papers and the occasional stopover by a name band, you have plenty of time to attempt to mould a personalised style, even if it means practically no feed-back for your efforts.Skrewdriver emanate from Blackpool, so is it any wonder that most of the time they sound genuinely uptight? Sadly stating their fears, paranoia and frustrations occasionally get the better of them. But that's only to be expected; Self-confessed skinheads are not welcome around their locale.
"All Skrewed Up" kicks off with promise, "Where's It Gonna End" being a menacing heavy acoustic strum. But instead of refining this approach, they get stuck into re-cycling de rigeur Two Sevens Clash themes of persecution complex in "(Too Much) Confusion", knocking the system in "9 Till 5" and slamming what one assumes to be local press in "We Don't Pose". There are no survivors. "Back Street Kids", "An-Ti-So-Cial" and "Jailbait" give more than an inkling of a personal approach, but they cop-out far too often and restrict themselves to the three-chord pogo.
Skrewdriver don't need to warm up other people's leftovers because in singer lan, these B'pool boot-boys have (potentially) one of the best gravel throated vocalists to emerge this year, whilst Ron (guitar), Kev (bass) and Grinny (drums) give the listener the distinct impression that they would be better deployed on more adventurous chords and rhythms. This is one of Rockin' Roger Armstrong's better productions, though personally I'd have preferred lan's vocals pushed more to the fore on the final mix.
Technical note: This album is the world's first 13 track, 12 inch 45rpm single. It retails at £2.50 and is pressed in black plastic. I wonder if Skrewdriver will take heed of the lyrics of their shambling retread of The Who's "Won't Get Fooled Again". (Roy Carr - NME DECEMBER 3RD 1977)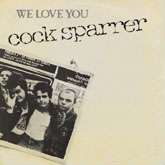 have their new Decca single released today, a reworking of the Rolling Stones song "We Love You," flipped with the
appropriate and far superior "Chip On My Shoulder." The group got together early in 76 with what they make clear is "Skinhead Rock" not "punk rock." They are Mick Beaufey on guitar, Colin McFaufl on vocals, Charlie Bruce on drums, Steve Burgess on bass and Garrie Lammin on guitar. They still make sporadic apppearances today.
RICHARD HELL

& THE VOID- OIDS

THE LOUS

University, Cardiff




THE SKIDS

THE PREFECTS

Clouds, Edinburgh




GENERATION X

ADAM & THE ANTS

Kings College, London




MANIACS

THE VOID

MONOTONES

Roxy, London

THE DICTATORS

THE POP GROUP

Roundhouse, London




Art College, Edinburgh




Country Club, Kirklevington




THOSE NAUGHTY LUMPS

Red Star Club, Liverpool