release their debut album today which didn't get the favourable reviews that the singles got. Maybe the teenagers bubble was about to burst . The band however were busy getting ready for their first headline tour of the UK starting in 4 days time. For the full scaving review go
HERE
.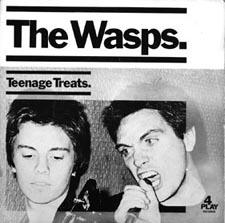 The Wasps
have their debut single out today on 4-Play Records. These London teenagers are regulars down at the Vortex and Rochester Castle venues. They're a quartet from Walthamstow made up of Steve Wollaston on bass, John Rich on drums, Gary Wellman on guitar and Jesse Lyn-Dean on vocals. The single pairs "She Made Magic" with "Teenage Treats." And it just so happens they're managed by Sounds journalist and a Snivelling Shit himself Giovanni Dadomo.
THE WASPS: Teenage Treats / She Made Magic (4 Play).
Aha. A light at the end of the tunnel. Adopting the old saw of attack being the best means of defence / offence The Wasps deliver a great record, great guitar riff and great singing. A hit or my name is B. P. Fallen. - (Bob Gedolf - Melody Maker December 10th 1977)
BLONDIE
Return to the UK circuit to play at Birmingham Barbareellas tonight.They are here for a reason and that reasons a new 45 due out on Monday.
LOCKJAW
are a new group from Crawley, Sussex. They've leave behind one of the most ridiculous versions of Cliff Richards 1961 hit "The Young Ones" ever on vinyl. It's out today on the Raw Records label. One of their members is Simon Gallup, who will join the Cure in January of '80. Lockjaw will encounter the Cure several times in the late 70s, after all, they're both from the same neighborhood.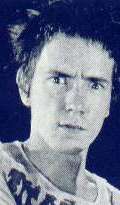 Johnny Rotten takes his driving test - and fails!

University, Keele
Radio Stars

Trinity College, Dublin




Apollo, Glasgow




BLACK SLATE

Lambeth Town Hall, London




THOSE NAUGHTY LUMPS

Red Star Club, Liverpool




BETHNAL

Padgate College, Warrington

RICHARD HELL

& THE VOID- OIDS

THE LOUS

Corn Exchange, Cambridge




WIRE

Hammmersmith Odeon, London

The Tubes begin a two night stint at the Hammersmith Odeon




The Adverts

Middleton Civic Hall, Manchester




The Mistakes

Acme Sewage Co.

Roxy, London