1977

DATE INDEX
DECEMBER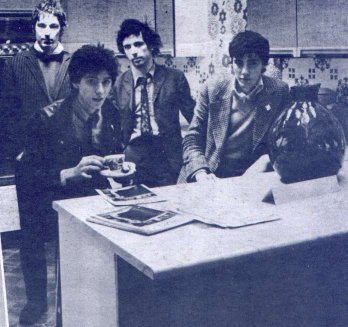 THE new look BUZZCOCKS finally get off on their debut tour of Britain this month, following the release of their first single for United Artists, 'Orgasm Addict'.
Anticipating the likely banning of the single on radio and television, the band Issued a statement saying:" 'Orgasm Addict' Is an anti-sex song emphasising the dehumanising of personal relationships. The flip side, 'Whatever Happened To', describes both the love object of a supermarket society and the process that transforms nostalgia and romance Into yet more consumer goods." The tour opens tonight at Dundee Manlon Hall tonight with THE PREFECTS.
The VALVES
from Scotland have already followed up their single eight weeks ago with another. It's called "Tarzan Of The King's Road" and deals with the Tarzan persona having to live in a tree in a plastic bondage suit while hangin' with Cheetah. Hearty stuff. It's coupled with "Ain't No Surf In Portobello," one of the few Scottish bands to use the word "Surf' in a song. It's about surfing in part of Edinburgh called Portobello where a sewage plant is nearby. The Valves sing about riding on the crest of an oil slick with city sewage in their hair. A great sense of humor and a funny record.
Marquee, London




MANIACS

Hope and Anchor




XTC

WIRE

Music Machine, London




THE OPPRESSED

YOUNG DEATH

Roxy, London




THE MODELS

HEADACHE

TONES

PEROXIDE ROMANCE

Vortex, London

RICHARD HELL

& THE VOID- OIDS

THE LOUS

Top Rank, Sheffield




Dingwalls, London




ALTERNATIVE TV

100 Club




NEW HEARTS

THE VAMPIRES

Blimps, Cambridge