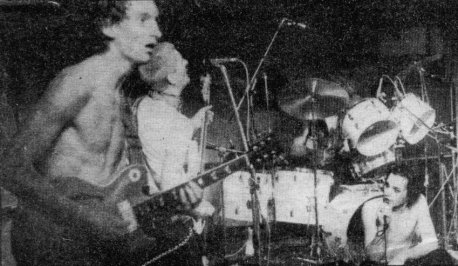 begin a 3 night stint at the Roundhouse in London. Rat went along to one of them:

"I met the Captain and Dave in the bar and they said, 'Come on back to the dressing room and have a drink'. Brian arrived with Erica and the tour manager, an absolute bastard who I despised. They had me thrown out of the dressing room. Maybe they thought I'd be hitting Jon Moss."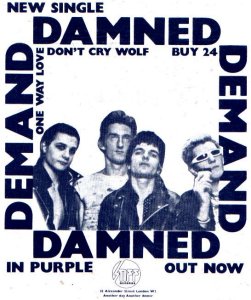 Today also seen the
release their fifth single today...."One Way Love" b/w "Don't Cry Wolf." If your lucky enough to be in the first 20,000 purchasers
(I wasn't!!! - Don't Care)
you'll get this vinyl goodie pressed on purple vinyl. Read the review below from someone who should know better....
DAMNED
Don't Cry Wolf / One Way Love (Stiff).
It used to be neat neat neat. Now, sorry lads, it's awful awful awful. And all the pink vinyl in the world won't sell it. The B-side is a pretty average straight rock song with slide guitar and there's the name of a Pink Floyd on the label. Bring back Knick Lowe.
(Bob Geldof - Melody Maker December 1977) Not content with just being The Boys, the band became The Yobs for November '77's 'Xmas' single "Run Rudolph Run" / "The Worm Song", a guise they undertook for a series of Yule-tide influenced singles and LP's. The Yobs moniker originally came about because NEMS their record label owed some studios money and because The Boys needed to rehearse they 'invented' themselves as another band so that the studio would let them in! Here's the single again reviewed by St. Bob...
THE YOBS: Run Rudolph Run / The Worm Song (Nems).
This smells suspiciously like the Boys (Yobs = Boys, geddit?) . . . Christmas punks but once a year, the Jonathan Kings of the New Wave or maybe just bored wiv nuffink else to do, sniff. Anyway Dave Edmunds long ago made all other versions redundant. Great pic sleeve of The Yobs, Rudolph Hess looking like a Kraftwerk reject. "The Worm Song" is brilliant, funny.
- (Bob Geldof - Melody Maker December 1977)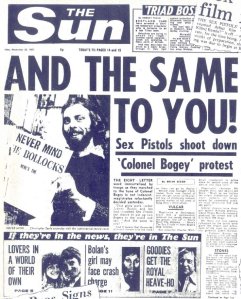 Yesterdays courtcase over the legalisation of "BOLLOCKS" hits the British media. Today's Sun gives it frontpage headlines.

Kings Hall, Derby
Paul Weller threatens to pull the gig due to spitting.
MONOTONES

Clouds, Edinburgh

Polytechnic, Huddersfield




University, Salford




BURLESQUE

Nashville, London




DEAD FINGERS TALK

Rochester Castle, London

SIOUXSIE & THE BANSHEES

THE CRABS

WRIST ACTION

New Regent, Brighton




BLITZ

THE MISTAKES

UK SUBS

Roxy, London




THIN LIZZY

City Hall, Sheffield




ONLY ONES

NEWS

Dingwalls, London