1977

DATE INDEX
DECEMBER
WIRE
never dreamt of releasing a single. They'd geared everything
towards the forthcoming Pink Flag album, its 21 - song torrent intended to mirror the breakneck, confrontational pace of their early gigs. But the record compoany had different ideas. They have their debut single out today. It's a three track EP coupling "Mannequin," "Feeling Called Love" and "12XU." It is considered very, very weird and brilliant for the time. Tucked away at the end of Side 2 was 12XLI. Lyrically it's Colin Newman at his most oblique, featuring just two, occasionally varied lines, "Saw you in a mag, kissing a man" and "I got you in a corner", delivered with gathering urgency before the refrain, " 12XU" - for the X, read an obvious monosyllabic expletive. In under two minutes, the track gains an astonishing momentum, the guitars ultimately approximating the terror of low-flying Stukas. It apparently began life as a medium-paced song, but was soon sped up reflecting the band's interest in kinetic-art. When it was released on 45, with Mannequin, it became their terrace anthem, even being covered a few years later by Serious Drinking, complete with football-orientated lyrics. (AP)
Writers: Robert Gotobed, Graham Lewis, Colin Newman, Bruce Gilbert
Producer: Mike Thorne
Personnel: Newman (vcs, gtr), Gilbert (gtr), Lewis (bs, vcs), Gotobed (drs)

"Because of 12XU's anthemic, football-chant qualities, people responded to it. They'd shout it at gigs, after about the fifth time we ever appeared in public, which was a bit odd. Like, How do they know?"
(Bruce Gilbert - 2001)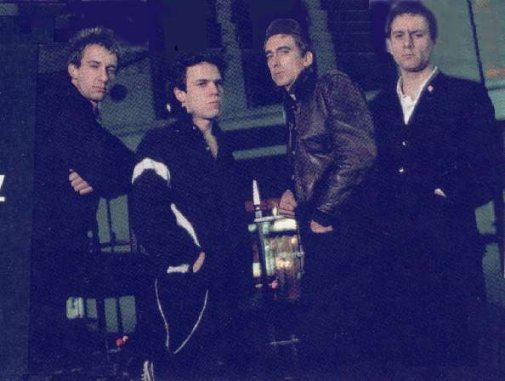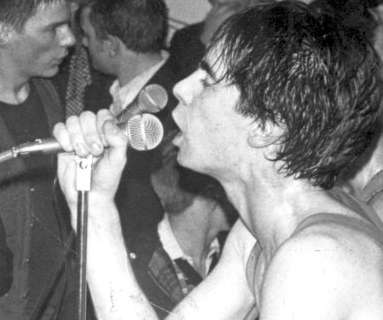 lead singer Jimmy Pursey knows what he is and does. He doesn't see his place in music as anything more than an entertainer in 1977. He told todays issue of the NME ...

"I know I'm not gonna change the world- if I ever believed I was gonna change the world I'd be a complete nutcase. All I can do is get out on that stage, sing about it and make people enjoy it at the same time. I'm not a politician, I'm not a leader, all I am is a bloke who gets on stage and sings rock and roll."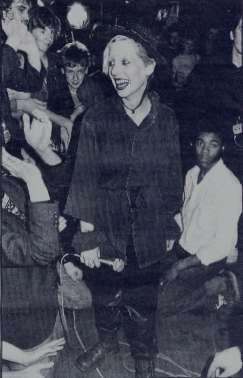 BIG IN JAPAN &
THE CHUDDY NUDDIES
are two Liverpool bands sharing a record put out by a local club called Eric's. The single is billed on the sleeve as "Brutality - Religion and a Dance Beat." One side has Big In Japan singing their theme song "Big In Japan." Listening to the shrill record you can't make out any of the lyrics, but you do catch the phrase "Big In Japan" at least eighty times. Big In Japan are Kevin Ward on bass and vocals, Jayne Casey (Eric's female bouncer) on lead vocals, Phil Alien on drums, lan Broudie on guitar, Bill Drummond on guitar and vocals and Clive Langer on guitar. The Chuddy Nuddies are actually the Yachts. They appear here in disguise since they are under contract to Stiff Records who have just issued their debut single "Suffice To Say." Their song contribution is "Do The Chud."
Radio Stars

Trinity College, Dublin




BLONDIE

Friars, Aylesbury




Free Trade Hall, Manchester




WIRE

Hammersmith Odeon, London

Eustace Percy Hall, Newcastle




The Wasps

Red Cow, London




BETHNAL

University, Glasgow

RICHARD HELL

& THE VOID- OIDS

THE LOUS

Pavillion, Hastings




Polytechnic, Manchester




The Adverts

University, Hull




THIN LIZZY

Apollo, Glasgow




ADAM AND THE ANTS

Marquee, London




ONLY ONES

TANYA HYDE & THE TORMENTORS

North East London Poly, London




Menace

Blitz

The Red Light

Raped

Roxy, London