have a new album on the shelves today. It's their second one - "Music For Pleasure." Surprise of the week is that Pink Floyd drummer Nick Mason produced the LP. Being from a generation where time spent in the studio is an asset and not a liability, it was probably a shock having to work on a budget. The album is also packaged in a cheerful Barney Bubble cover. Not the normal package for punk records these days. Where's the safety pins? Rat Scabies, who left the band last month, will not be present to play these tracks live during the bands current dates. As far as the songwriting goes, we get to hear what sort of songs Scabies, Sensible and Vanian can turn out. That's something missed in the past because of the prolific Brian James and one of the alleged reasons that Rat walked, not enough credit(s) However the album sucked if we believe the critics,with the Melody Maker even calling "Damned Feeble." A common scapegoat was Pink Floyd's
Nick Mason
(who produced the album) but as the Captain says, Brian James just didn't have much worthwhile to say this time around.

Sensible: "I wanted to work with someone from the Floyd, I suppose it was Syd Barrett. We ended up with their drummer, who had nothing to do with the Floyd we liked. After our second album was so appalling, I lost all respect for Bryan James. I thought: "I can write better than this."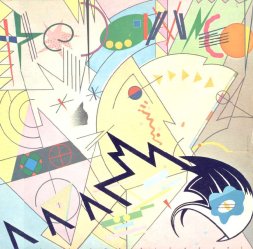 THE DAMNED:
" Music For Pleasure" (Stiff SEEZ 5).
ROUND two for the Slip Kids and this time Stiff, where apparently " every meal is a memory," have gone to town on the packaging. No more custard-pie mayhem or Hot Rods snuck in the back door to play havoc with our expectations. Instead, the front is a jangle of primary school colours and geometric madness in which it becomes a game to spot the band's name (try across the top). Most people withdraw in horror when they see it. I didn't. I really like it.
I wish I could say the same for the music within. It's not that it's BAD. It's just that it's relentlessly MEDIOCRE. The reasons seem to be twofold. For starters, the material. The songs sound as if they were wrung like blood from a stone. Diluted rehashes from the blueprint of the debut album. Not one of them matches up to the stab-in-the-solar-plexus impact of "New Rose," which admittedly was the best track on that album. Maybe Brian James, premier tunesman, should have allowed himself more time to collect his thoughts and chords. He has written less this time - the credits show more collaborations within the group and, of course, in principle that is no bad thing.
"Problem Child" (the single) still resembles a cutting-room cast-off from the early Who, while "Don't Cry Wolf" Wolf" is one-dimensional bluster full of the tired old calls about not listening to 'what your parents say and 'wearing what you want because there ain't no uniform.' "Alone" and "You Take My Money " gallop along with a similar lack of direction/marrowbone jelly whereas " "Stretcher Case" loses the joke-shop fangs it had on the earlier version produced by Shel Talmy (the single given away in away in Julv to celebrate their first anniversary).
They obviously wanted to pull a few surprises as a couple of tracks show, albeit half-heartedly. "You Know " only escapes being a deadly one-riff drone by the intervention of - yes - Lol Coxhill and his chaotic, shrieking sax. The Damned go avant-garde? If a smile doesn't break across those frost-bitten lips, that's your outlook.
But the number that sums up what the vaudeville vampires are all about is "Politics": "Give me fun, not anarchy." The second sore point is the production. The idea of putting the Pink Floyd drummer (a cerebral country squire of the academic school) in with four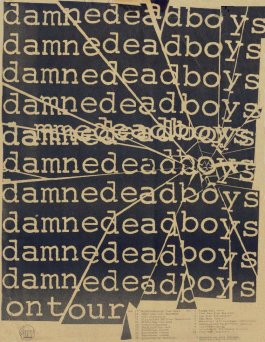 disreputable funsters was a great one. But Nick Mason is no substitute for Nick Lowe. He has tried to smooth down the rough edges instead of bringing out the sheer panache of their Cavalry Charge lunacy. Doctor Martins scrubbed so clean that they might almost pass for patent-leather shoes to the short-sighted. Otherwise what you get is what you (might) already own. Hailstorm frenzies of the Captain's pummelling bass, Rat's splendidly hydraulic drums, Lu's undemonstrative rhythm, Dave's hammered-down vocals and Brian's shrill guitar fills. Lu's arrival hasn't made much difference so far and Rat's departure will be a major loss. It's no more (and no less than) old-fashioned party music for Christmas 1977. Select your release mechanism. Don't listen too hard. Just dance.
(Ian Birch - Melody Maker 26th November 1977)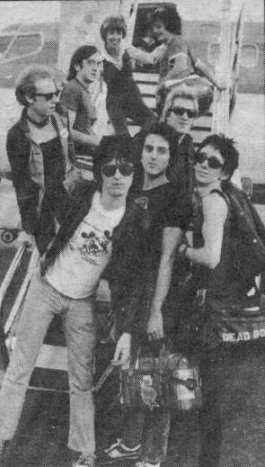 Have arrived in the UK as guests on the Damned current UK tour. They join the Damned just in time for tonights show at the Cambridge Corn Exchange. However they very nearly missed this date. A jovial young Stiv Bators caused a few heart flutters in the Sire camp on their arrival in Britain. "Where's your passport and permit, Stiv?" asked a record company person as the Dead Boys wandered through customs. "Over there," says Stiv, blankly, "In my stash bag..."

Today's first visit is to Virgin records in Manchester, then it's on to Piccadilly Radio followed by BBC Radio Manchester. On to Liverpool and the local Virgin record shop. After this they visit Radio City and BBC Radio Merseyside.
GENERATION X
Generation X have their new single released today, 'Wild Youth'/ 'Wild Dub', a potential 'teen' anthem of that got em fans from all over the teen board. A story went out regarding the B-side that, despite being credited as 'Wild Dub', a number of the records featured a different tune entitled 'No No No'. This seemed a transparently obvious, and somewhat limp-wristed attempt by the record label to try and wring sales from their relatively unproven market.

"A great record, also because we did a dub version of the A-side as the flip - something that was unheard of in the 1970s."
Tony James, 2001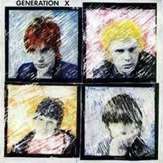 GENERATION X 'Wild Youth' (Chrysalis)
THE SECOND of Generation's X's magnificent triumvirate of Chinn-Chapman singles. Wild Youth barely scraped the charts. It also did little to eliminate suspicions generated bv the band's well-scrubbed appearance and 'controversial' use of pop producers. Yet its simple teen lyrics and euphoric powerchords marked it as probably the last great single of '77. Generation X were the most non-conformist of punks, suffused with a cartoon poppiness more reminiscent of the Glitter Band. Wild Youth derived from a typically naive fan outing, as Tony James and Billy Idol went in search of the Mayfair phonebox where David Bowie had posed as Ziggy Stardust: "As we turned the corner we saw someone had sprayed 'youth!' on a wall," says James, "and I said, I've got this great idea tor a song! So we stopped in a nearbv cafe and Billv hummed out a tune and I scribbled lyrics on a paper napkin, a song literally about walking down the street and having people stare at these two spiky-haired youths... it became an anthem for us." (PT)
Writers: Billy Idol and Tony James Producer: Chinn-Chapman
Personnel: Idol (vcs), Bob Andrews (gtr), James (bs), Mark Laff (drs)
(Mojo October 2001)
The Mayfair, Newcastle Upon Tyne




Marquee, London




The Adverts

Barbarellas, Birmingham




WAYNE COUNTY & THE ELECTRIC CHAIRS

Central Poly, London




USERS

SOFT BOYS

School Of Economics, London




BETHNAL

77 Club, Nuneaton

Eric's, Liverpool




Top Rank, Cardiff




THE DICTATORS

STUKAS

Roundhouse, London




Wasps

The Tickets

The Shoplifters

Roxy, London