1977

DATE INDEX
DECEMBER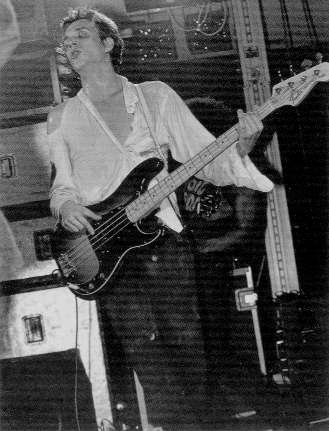 RICHARD HELL
& THE VOID- OIDS
SIOUXSIE AND THE BANSHEES
THE LOUS
NEO
Music Machine, London

"We did a tour with the Clash at the end of that year. We did one date in London that was just ours and Siouxsie and the Banshees opened for us which is the most crazed we ever did in terms of sheer aggression and actually at the end of it Rotten comes on the stage haranguing the crowd to force us to come back for an encore which is when we played "Ventilator Blues." - Richard Hell reminiscing on his tour of Hell!
BLONDIE's
latest single is "Rip Her To Shreds," "In The Flesh" and "X-Offender." All three songs are from the Private Stock LP, now being picked up by Chrysalis Records. Blondie have found their new bass player. He's Nigel Harrison (ex-Silverhead) and has a long past in bands, most recently playing with ex-Doors keyboardist Ray Manzarek. He's been flown in from New York and told to learn the twenty-five song set quickly in time for this brief British tour. Frank Infante moves over to rhythm guitar along with Harry - Stein - Burke and Destri.
BLONDIE 'Rip Her To Shreds' (Chrysalis)
Deborah cats her way through the lyrics like a wayward teen queen with the most vicious tongue in the school, while Blondie cut clean and crisp with their eminently transistorized sound. Now that Blondie's year-old debut album is being rereleased on Chrysalis, this track has been lifted as a single. It's not as good as 'X Offender', but that's on the B-side. So if you haven't yet fallen for this upmarket bubblegurn with upmarket page three sales gimmick now's the chance.
( New Musical Express 1977)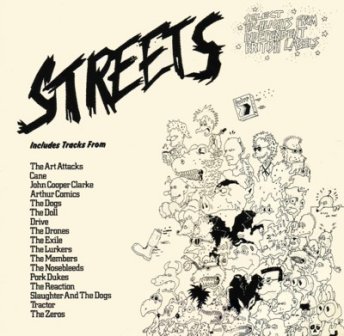 is the new Punk compilation put together by Beggars Banquet, a independent chain of record shops in London that have been paying close attention to underground punk scene and small labels. The flegling label now issues a collection of punk bands titled "Streets." Some of these recordings have never been released before and many bands appear for the first time anywhere. Among those we've heard from before are the Lurkers with a new one "Be My Prisoner," John Cooper Clarke's "Innocents," "Hungry" by the Zeros, The Drones' "Lookalikes," the Pork Dukes' toilet humoured "Bend & Flush". New bands to surface on this LP include The Doll, Arthur Comics?, The Members, Art Attacks, Cane and Tractor. The majority of the tracks for the album were produced by Steve Lillywhite and Ed Hollis and represent bands from France, Dundee, Glasgow, Manchester and London. A tour package with a lot of the Bands featured is currently being put together for later this month. Front cover artwork is done by Sounds cartoon frelancer and lead singer out the Art Attacks, Edwin Pouncey (AKA Savage Pencil).
Radio Stars

Trinity College, Dublin

THE RAGE

Kent University, Kent




SPIZZ 77

RAPED

METAL URBAIN

Vortex, London




THIN LIZZY

Odeon, Edinburgh




NEW HEARTS

THE DRONES

Marquee, London