1977

DATE INDEX
DECEMBER


Polytechnic, Brighton
"THE DAMNED finish their sound-check, Dead Boy Cheetah Chrome does a double-take of Brighton Polytechnic's main hall and sneers: "This place is so small the kids can lean against the far wall and gob on us from there!"
Spittle showers are, so The Dead Boys maintain, an appreciative gesture they can take or leave. But as it turns out, not a solitary Green Gilbert or Chocolate Charlie is aimed from the audience's side of the footlights on this particular night.
Despite the fact that their live sound is an improvement on the dreary quality of their "Young, Loud And Snotty" album, The Dead Boys are greeted at this sparsely attended function with overwhelming apathy, except for sporadic outbursts of pogoing during "Search And Destroy.' "- (New Musical Express December 17th 1977)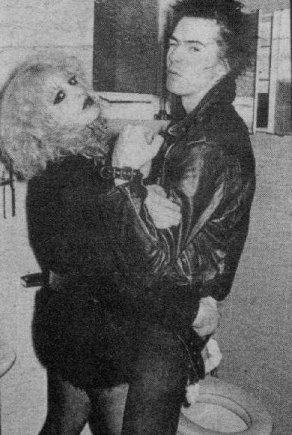 SEX PISTOLS bassist Sid Vicious turns up for prearranged rehearsals for the Sex Pistols' secret three month world tour, only to find that none of the other members are there. He's very put-off and wonders why they are letting time run out when their departure for the tour is quickly coming. Morose and disappointed, Sid got very depressed and drank himself even deeper. At one point he tried to throw himself out of the window of his current bolthole, the Ambassador Hotel room in Bayswater. The only thing that stopped Sid's suicidal plunge was girlfriend Nancy Spungen who grabbed the gangly Sid by his his studded leather belt and dragged him back into the room. Once inside, Sid showed his thanks by knocking Nancy's head against a wall repeatedly, leaving her almost unconscious and very bloody. After more hysterics (this all taking place in the pre-dawn morning hours) they calmed down and went to bed like you do. The hotel's receptionist entered the room, saw the blood and general disarray of the room, assumed the worst and called the authorities. The police entered on grounds of searching for "a stolen ring," and while there confiscated some "suspicious substance." The two were taken to the station, questioned and charges were dropped. Because of this morning's incident, the rest of the band are supposedly adamant about having Sid booted from the group. If he doesn't leave they want him to be separated from Nancy, who they consider the reason for all his troubles and constant excesses.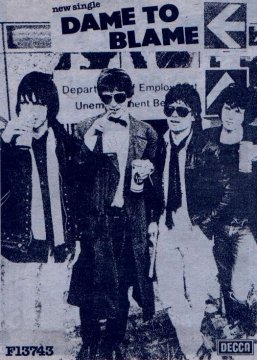 Release their 3rd single todaY gearing the band up for their debut album due in the New Year. Here's the not so rabid review...
NEW WAVE CLONES
SLAUGHTER AND THE DOGS:
Dame To Blame / Johnny T. (Decca).
The sound of the Stretford End turns out to be R'n'B based and rather Yardbirdsy. It's like any ten other records by any new band over the past six months. Sorry, Decca, not worth the £120,000 or whatever you paid.
(Melody Maker November 3rd 1977)
The Adverts
Polytechnic, Sheffield
Apollo, Glasgow




Rowntrees Corn Exchange, Manchester




SIOUXSIE & THE BANSHEES

Stowaway, Newport




SLUGS

Electric Circus, Manchester




WIRE

NEO

TRASH

Music Machine, London




THE CRABS

MONOTONES

Marquee, London




SPIZZ 77

K.T. DISCO

Golden Eagle, Birmingham




THOSE NAUGHTY LUMPS

Havana Club, Liverpool




BETHNAL

University,Bradford




RIFF RAFF

Kensington Hotel, London