1977

DATE INDEX
DECEMBER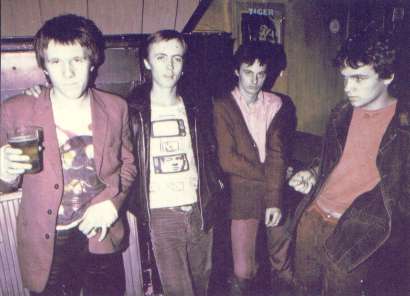 ALTERNATIVE T.V.
have released their first proper record on Deptford Fun City Records today. That's another new label that Miles Copeland (manager of Climax Blues Band, Step Forward and Illegal Records) set up to record some of his other own interests. Titles are "How Much Longer" and "You Bastard." ATV's previous release was a flexi disc that came in lead singer Mark Perry's fanzine Sniffin' Glue.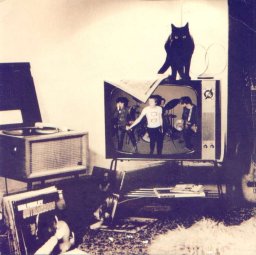 Alternative TV 'How Much Longer' (Deptford Fun City Records)
Sick to Fanzines, Mark!
(Bob Geldof Melody Maker
December 3rd 1977)

Town Hall, Middlesboro
Wasps
Rochester Castle. London
SIOUXSIE & THE BANSHEES
are the subject of tonight's John Peel session aired during his show on Radio One. Songs recorded for this radio debut are "Love In A Void," "Metal Postcard)" "Suburban Relapse" and "Make-Up To Break Up." This is the first chance for anyone who has not been to the band's few appearances to hear what the buzz is about.

John Peel turned out to be a godsend, a real champion for the band, brilliant. I'd approached him at the Vortex a number of times and got no response but Woods (Banshees booking agency) somehow wangled it with him. I think I had a bit of a bad reputation ... association with the Pistols... the Banshees being the Banshees. Woods approach was probably the face of respectability - March Artists, C.BS., nice little blue suit and tie.
So Dave got us a John Peel session, and the session went down a storm, great response to it.
- (Nils Stevenson-
Banshees manager)
KILLJOYS

THE MIRRORS

PATRICK FITZGERALD

CANE

Vortex, London




Larry Zoom

Plastics

Roxy, London

The snotty Plastix from Hastings featuring Huggy Leaver, Mark Wilmshurst, Mark Hogins and Nick Sayer on Guitar, secured an appearance on the forthcoming 'Farewell To The Roxy' compilation album released by Lightning records in 1978 singing 'Tough On You'. Other songs featured in their set were Nothing 2 Do, Fleet Street, Terminal TV, Cheap Copy, 9 Till 5 and Politics. Their only other claim to fame being the two Marks found some sort of success later on with Peter & The Test Tube Babies. While guitarist Nick Sayer went though a variety of bands before hooking up and hitting pay dirt as the guitarist with Transvision Vamp some 7 years later. He ironically appeared as a punk on the cover of 'I Want Your Love'.

Ardwick Centre, Manchester




THE PLEASERS

Hope & Anchor, London




Direct from Sweden

Scandinavians Premier Punk band

THE HURRICANES

PLUS SUPPORT

Blimps, Cambridge