1977

DATE INDEX
DECEMBER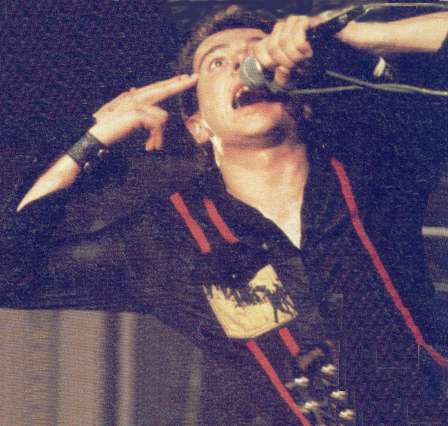 SIOUXSIE & THE BANSHEES
Elizabethan
Ballroom, Belle Vue, Manchester
The Clash play the final gig of their 'Out Of Control' tour at Manchester's Elizabethan Ballroom tonight. The front door to the venue gave way under pressure from queuing fans causing £600 worth of damage, nothing new for the Clash these days. Granada TV's So It Goes had been the first British TV music show to feature punk bands on a regular basis, despite being based in Manchester rather than London. Presenter Tony Wilson - soon to found Factory records - was sympathetic to the spirit of Punk, recognising the importance of presenting the music in a live setting. Some bands were invited to perform in the studio - the Pistols had made their live TV debut in this manner back in August 1976 - and others were filmed in concert when they came to town on tour. The programme's cameras were in the front line for the Clash tour finale, perfectly placed to capture the chaotic energy and the Get Out Of Control experience.
The So It Goes segment is shown through a camera lens blurred by deposits of gob as the sweat-drenched band toil determinedly through a hail of gob, delivering ragged but stirring versions of 'What My Name', 'Garageland', 'Capital Radio' and 'Janie Jones'. In the spirit of the bands more recent compositions, 'Capital Radio' now has a lengthy coda, during which Joe ad-libs semi-coherently. Never wholly sure of the lyric to 'What's My Name', he mumbles his way through until inspiration strikes. 'Here we are on TV,' he sings, gesturing at the camera. 'What does it mean to me? What does it mean to you?' Then he pivots around to snarl the answer into the lens: 'Fuck all!' At the end of the song, his feet become entangled with the microphone stand, and he pitches over backwards, smashing his head onto the drum riser. Evidently a commonplace occurrence: instead of downing his instrument to rush to his band mate's aid, Paul Simonon just hoists his bass strap an inch higher on his shoulder, gobs nonchalantly at the floor, and launches straight into 'Garageland'. Intense stuff.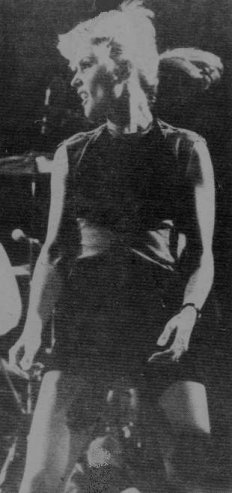 BLONDIE
XTC
Rainbow, London
BLONDE HAIR, red tights, tight dress, skin white . . . every transvestite, sad sex film star and bewildered waitress must want to look like Debbie Blondie . . . babydoll, doll-baby, disposable darling. After seeing them be nothing more than brilliant (both nights') when they supported Television at the Hammersmith Odeon, I was a pigeon for Blondie - but even the acest amusement arcade loses its allure when the one-arm bandits need oiling.
Simply, the girl from Son Of Sam's City stayed mainly stationary, incorporating all the attractions and frailties of her gender, the perfect victim. When stoned by a barrage of wolf whistles, Debbie edged coyly into "I Didn't Have The Nerve To Say No", looking like sex crucified.
I thought of the authority that Joan Jett had wielded over an auditorium of howling
boylets a few nights earlier, and decided that double Jett's years in America had eroded Blondie's dignity, as illustrated in her compliance with Chrysalis's current advert gracing the glossies (a picture of Debbie and the line, "Wouldn't you like to rip her to shreds?") If you do, go straight for her throat, dear...
I know the sound was bad, but Debbie seemed bored and lacklustre besides, not her usual beautiful little-little-little black dress self. Instead she flaunted a crass black and red ensemble - great marching colours, but no combination to cavort in.
All the old stuff (including the sublime-time "Kung Fu Girls", with its silent-movie organ segment, so ideal for Debbie's homicidal geisha stances) and even newer, duller songs such as "Contact In Red Squarc", "I Am Always Touched By Your Presents, Dear" - plus "Denise", which is Debbie's third condescension to the dyke market ("Kung Fu Girls" and "Rifle Range" being the others). Patti Smith was never this blatant (bless her.) Never mind the maraccas, where's the dancing? Go Debbie go! But her silent physical threat was never exercised, and Debbie crystallized herself as the supreme inanimate object . . . numb, dumb, photogenic in the extreme.
Then I thought of oh, how she danced at Hammersmith - not so much poetry in motion as a fly in amber. For all her greatness, her dancing was a full revolution of poses rather than a fluid movement; clockwork camera dancing, designed to look good in print rather than to delight the mugs in the mezzanine.
Attitude dancing; a collection of stances rather than an action (in common with other American band such as Television, The Ramones, The Talking Heads), action being a positive move and therefore uncool.
Debbie Blondie has made a great album and given great shows, but let it be said that she will always be much more of a Jayne Mansfield than a Marilyn Monroe.
- (Julie Burchill New Musical Express December 3rd 1977)
Birmingham, Barbarellas

Rock Garden, London




THE VIPERS

Trinity College, Dublin




COUNT BISHOPS

THE OUTSIDERS

100 Club, London




Why Not

Berlin

Roxy, London

Woods, Plymoiuth.

Eater start their nationwide UK tour tonight in Plymouth.




ART ATTACKS

THE DOLL

BIZARROS

Vortex, London




THE FRUIT EATING BEARS

Plus Support

Blimps, Cambridge