1977

DATE INDEX
OCTOBER
NOVEMBER
DECEMBER are about to start their first headlining British tour to coincide with the release of their four-track single out today. It comes in a limited edition of 15,000 12-inch copies with a picture sleeve which will be sold at the regular price 80p. Three of the four tracks are band compositions: 'Summer Of Love', 'No Time' and 'Siouxsie Sue', plus the old Easy Beats' hit 'Friday On my Mind'. They play Retford Porterhouse tonight. Here's the review below.
LONDON: 'Summer Of Love' EP
(MCA 319).
Twelve-inch four-tracker. Plods a bit, sounds like they're trying too hard to sound nasty, but otherwise a fair-enough record from a band who most of my compadres have slagged off.
(Sounds September 10th 1977)
begin a two night residency at Birmingham, Barbarellas tonight.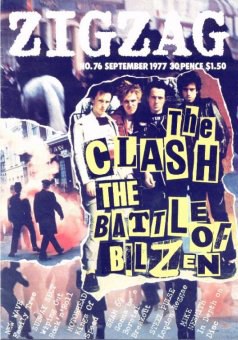 This months issue of Zig Zag magazine features cover stars The Clash live Europe, Subway Sect, Sham 69. Plus the Annual Mont De Marson Punk festival in Paris and a massive New Wave Family Tree.

THE DRONES
Bournmouth, Top Rank
DEAD FINGERS TALK
Arsley Community Centre, London