1977

DATE INDEX
OCTOBER
NOVEMBER
DECEMBER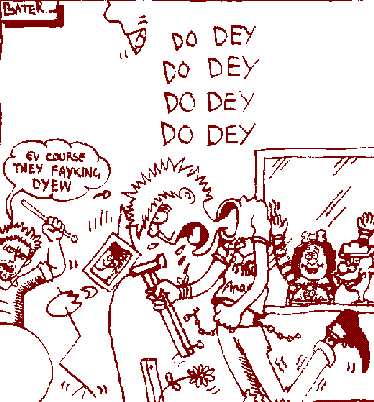 The Bears
Crass
Roxy Covent Garden
This was the infamous gig that got Crass banned from London's premier punk club and inspired Crass's 'Banned From The Roxy' classic. Here's the bands view of the situation...

"The idea of becoming a band had never seriously occurred to us, it simply happened. Basically anyone was free to join in and rehearsals were rowdy affairs that invariably degraded into little more than drunken parties. Steve and Penny had been writing and playing together since early '77, but it wasn't until Summer of that year that we had begged, borrowed and stolen enough equipment to actually call ourselves a band....CRASS. Having finally managed to rehearse five songs, we set out on the road to fame and fortune armed with our instruments and huge amounts of booze to help us see it through. We did gigs and benefits, chaotic demonstrations of inadequacy and independence. We got turned off here, turned down there and banned from the now legendary Roxy Club. 'They said they only wanted well behaved boys, do they think guitars and microphones are just fucking toys?"
(Extract from the official Crass website) Sect stumble,
Slits excite
Subway Sect/Slits/ Killjoys
Music Machine
BY MIDDAY it was going to be the 'underground event of the year' with whispers under hands that the Pistols would be playing. Don't some people live in hope? This then changed to the exciting prospect of a New Wave 'jam' at the end of the evening. Oh, gawd, just what the world needs: a punk 'super-ssession'. Mind you, John Rotten could've been beating his bongoes in the dirt with Mick Jones on spoons for all I'd have known or cared. I left halfway through Subway Sect, complaining sotto voice that 1 didn't 'have to' listen to 'this garbage'.
It's funny because I loved the Slits who were on before the Sect. I love the very fact those girls exist - and they are girls, real girls. When the Slits play, it's the definitive soundtrack to 1977: 'Slime', 'What A Boring Life", 'Love And Romance', 'Vaseline'. God, it's so great to be alive, a young rabid dog.life's a bastard. Where were we, doctor? Oh, yeah, Slits were a wow but, curiously, Subway Sect nauseated me. Visually they're about as entertaining as a fly paper; musically they're as much fun as sitting inside a cement mixer with cotton wool in your mouth. I don't doubt there are lessons to be learnt from Subway Sect, but I always was a poor student ... And let's have a big hand for the Music Machine - right around the face. A human ant-hill and I -want-a-drink, Malcolm! (get those bars sorted out).
(Jane Suck - Sounds)
Siouxsie And The Banshees

GI Bus Club, Paris.




Garden, Penzance




DEAD FINGERS TALK

Rochester Castle, London




GENERATION X

Mr Georges, Coventry

THE VICTIMS

Lodestar, Blackburn




ALBERTOS Y LOS TRIOS PARANOIAS

'Sleak'

Londons Royal Court theatre.