1977

DATE INDEX
OCTOBER
NOVEMBER
DECEMBER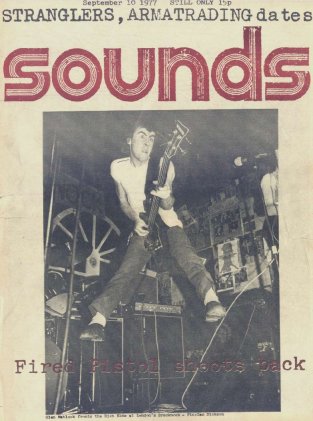 This weeks Sounds magazine features Glen Matlocks new band
The Rich Kids
in action on its front cover plus their first press interview inside. Also featured in this weeks mag are
Wreckless Eric, The Runaways, The Adverts
. Plus
the Pistols
and
Ultravox!
in the live gig section. They also display a big centrespread on the current Punk UNK Zzineworld. Some of the Exoticly named publications given preference are No Futiure, Tacky, Jolt, Skum, Shews, Black Sun, Live Wire and Negative Reaction. There is also mention of Sheffield-based Gunrubber, Tumbridge Wells-based Septic Ears, Manchester's Ghast Up, and Glasgow's Trash- 77. Old favorites like Sniffln Glue, 48 Thrills, Flicks and Ripped & Tom are also covered. Most are available from 10-40p each, on a very irregular basis from local indie record shops or spotty oiks outside gigs.
New Wave Chart
The UK National charts saw Punk in healthy placings...
17 SOMETHING BETTER CHANGE/ STRAIGHTEN OUT, Stranglers, UA
18 ALL AROUND THE WORLD, Jam, Polydor
22 ROADRUNNER, Jonathan Richman, Berkley
24 DO ANYTHING YOU WANNA DO, Rods, Island
27 GARY GILMORE'S EYES, The Adverts, Anchor
28 LOOKING AFTER NUMBER ONE, Boomtown Rats, Ensign
Supplied bv BMRB/Music Week

1 GARY GILMORE'S EYES, The Adverts, Anchor
2 LOOKIN' AFTER NO. 1, The Boomtown Rats, Ensign 12"
3 IM ALIVE, 999. La Britain
4 STOP IT, The Radio Stare, Chlswick (EP)
5 SOMETHING BETTER CHANGE, The Stranglers, UA
6 DO ANYTHING YOU WANNA DO, The Rods, bland
7 LONDON GIRLS (Live), Vibrators, CBS
8 THE FIRST TIME, The Boys, RCA
9 ALL AROUND THE WORLD, Jam, Polydor
10 I WANNA BE....... Venus & the Razor Blades, Spark
11 RED SHOES, Elvis'Costello, Siff
12 ANARCHY, The Sex Pistols, French Imp.
13 MOTORHEAD, Motorhead, Chiswick
14 SHADOW, The Lurkers, BB
15 PROVE IT, Television, WEA 12"
16 PRETTY VACANT, The Sex Pistols, Virgin
17 IGOTARIGHT, Iggy Pop, (Import)
18 JOHNNY WON'T GET TO HEAVEN, Killjoys, Raw
19 CHINESE ROCKS, Johnny Thunder, Track 12"
20 WHOLE WIDE WORLD, Wreckless Eric, Stiff
21 SEARCH AND DESTROY, Dictators, WEA (lire 12")
22 LOVERS OF TODAY, The Only Ones, Vengence
23 CAN'T STAND MY BABY, The Rezillos, Sensible
24 DON'T TAX ME, The Exile, Boring (EP)
25 SPIRAL SCRATCH, The Buzzcocks, New Hormones
26 LOVE AND THE SINGLE GUY, Roogalator, Virgin
27 TEMPTATIONS OF A WHITE COLLAR WORKER, The Drones,OHMS
28 GOD SAVE THE QUEEN, The Sex Pistols, Virgin
29 SICK OF YOU, The Users, Raw
30 YOUR GENERATION, Generation X. Chrysalis
30 SAINTS AND SINNERS, Johnny & The Self Abusers (in demand),Chiswick
Supplied by Hot Licks, 47 Cockburn St, Edinburgh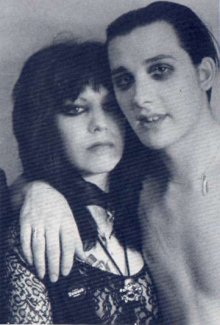 In contrast to his rather wreckless compatriots, Dave Vainian remains rather aloof during this time of brewing Damned disquiet, in part due to his mysterious Bela Lugosi-ish vampire frontman image but also in part due to his new bride, Laura who he married today.
Now back in the UK are still trying to rectify the muddy mix on their debut album. So they give Advision Studios: another try with mixes of Baby Talk, Going Steady and One Track Mind. GENERATION X

Barbarellas, Birmingham.




THE JOLT

Nashville, London

(live recording)




RIOT SQUAD

TUBEWAY ARMY

Roxy Theatre, Harlsdon, London

(Morning Matinee show)




Snatch

Manchester, Electric Circus




RIFF RAFF

Red Cow, London.




Tracy's, Harveys




TOM ROBINSON BAND

SORE THROAT

Dingwalls, London




STRIFE

BETHNAL

JB's, Dudley




THE DRONES

Dunfermline, Kinema




DEAD FINGERS TALK

Duke Of Lancaster, New Barnet, London