1977

DATE INDEX
OCTOBER
NOVEMBER
DECEMBER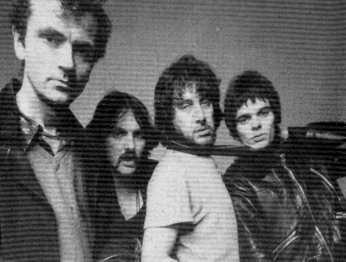 release their 4th single 'No More Heroes' / 'In The Shadows' today as a prelude to their 2nd album also called No More Heroes released later this month. The band are currently on a Swedish tour but come back to the UK for their bifghgest tour to date at the end of this month.
THE STRANGLERS: 'No More Heroes' (United Artists)
Daft title from The Stranglers, who are the most firmly established heroes of New Wave. They're so solidly fixed on their pedestal it seems like posturing false modesty to issue this sort of disclaimer. Indeed, for the reviewer, it would be an act of great perversity to deny the song's place as the week's major releease. Rather like slagging off 'The Last Time' for lacking the ethnic authenticity of 'Little red Rooster'. To be accurate, this is not quite as classy a single as the one before it, and that one wasn't quite as ace as 'Peaches', but the band's momentum is such that quibbles of that sort are irrelevant. The lyrics are again strongly to the fore. "Whatever happened to Leon Trotsky?" they ask. "He got an ice-pick that made his ears burn " they answer. It's the instrumental work that's the selling point, though. American critics may dismiss The Stranglers as retreads of The Doors, but surely Morrison's lot never had this sort of energy. The keyboards are certainly in the patented Ray Manzarek style, a beautiful rolling sound, but the approach is that much more intense. A hook that you could use to scale a cliff compounds the cut's potential. The Stranglers now set the standard against which the rest of the new bands have to measure themselves.
(NME 17th September 1977) Brunel Rooms, Swindon




GENERATION X

Lafayette, Wolverhampton




X-RAY SPEX

Red Cow, London




ALBERTOS Y LOS TRIOS PARANOIAS

'Sleak'

Londons Royal Court theatre.




HAWKWIND

BETHNAL

Palace, Manchester

THE DRONES

Top Rank, Plymouth




THE ADVERTS

Eric's, Liverpool




DOLE Q

Roxy, Covent Garden, London