1977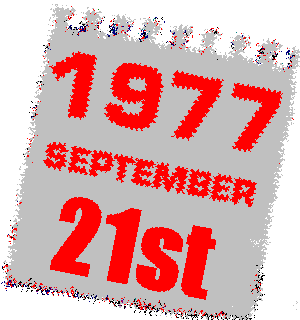 DATE INDEX
OCTOBER
NOVEMBER
DECEMBER
are forced to cut short their short Swedish tour in Kilppan, Sweden ) after mass fighting at the venue. A group of about 300 Swedish thugs known as the Raggare were held accountable. (the Ragare - '50s style Teds), they allegedly broke into the club and destroyed equipment as well as injuring members of the road crew. Other bands are concerned about the trouble, most immediately the Jam, who are playing 2 dates in Sweden this Friday.

"We don't like violence, but if somebody has a go we obviously have to defend ourselves.
" In Sweden we had to cut our tour short because of an attack by the Raggare - a gang of motorised teddy boys. They injured three of our road crew and caused £4,000 damage to our sound equipment. "But we'll be back there and next time we'll be ready for them," - JJ Burnel (The Stranglers - Daily Mirror November 1977).

Siouxsie And The Banshees

GI Bus Club, Paris




THE SWORDS

THE VICTIMS

400 Club,Torquay

ALBERTOS Y LOS TRIOS PARANOIAS

'Sleak'

Londons Royal Court theatre.




HAWKWIND

BETHNAL

Civic Hall, Wolverhampton