1977

DATE INDEX
OCTOBER
NOVEMBER
DECEMBER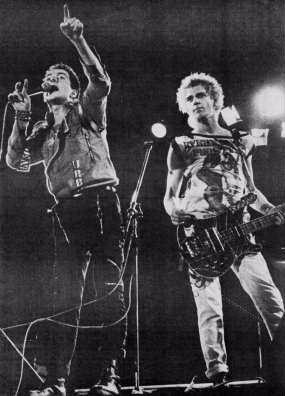 move into higher gear today by beginning the European leg of their 'OUT OF CONTROL' Tour tonight at the Paradiso in Amsterdam. Support comes from Siouxsie And The Banshees.
Polytechnic, Oxford
IGGY POP
THE ADVERTS
City Hall, Newcastle
X-RAY SPEX
have lost their original saxplayer, sixteen year old Lora Logic. The official line was she left to carry on her schooling, but Lora 25 years older and wiser claimed...

"Poly felt threatened by my presence. My riffs were getting a lot of attention.They replaced me (after a very successful year) and my little world shattered." - (Lora Logic - 2001)
Rudi Thomson has taken her place tonight as they support the Boomtown Rats at the London, Marquee.
STEEL PULSE

WASPS

CYANIDE

THE JETS

Vortex, London




THE VICTIMS

Top Of The World, Stafford




HAWKWIND

BETHNAL

Odeon, Birmingham

Southside Club, London




XTC

SCREENS

VIOLATORS

Rock Garden, Rock Garden




THE MEMBERS

Speakeasy, London




ALBERTOS Y LOS TRIOS PARANOIAS

'Sleak'

Londons Royal Court theatre.