1977
DATE INDEX
OCTOBER
NOVEMBER
DECEMBER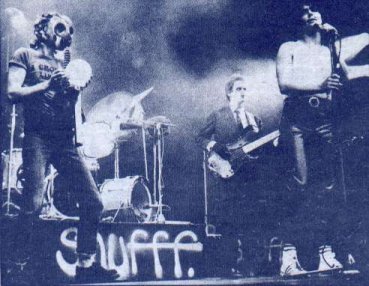 ALBERTO Y LOS TRIOS PARANOIAS
are sailing high these days on the success of their macabre, albeit humorous musical Sleak!, so why not have a vinyl artifact to go along with it? Well now you have one. It's the "Snuff Rock" EP and features four songs from Sleak! In the grooves are "Kill," "Gobbin On Life," "Snuffin' Like That," and the reggae track "Snuffin' In Babylon." It was produced under the watchful eye of Nick Lowe and released on Stiff Records. Besides being a document of the highlights of a successful stage show, it's one of the funniest and most on-the-mark parodies of punk rock that's been done.
patti smith's
original April 76 version of "Gloria" is reissued as a 12" single, with her live version of "My Generation" on the flip. It's the same single they issued last year with the exception that the lyrics are complete and unedited. The over-cautious managers at EMI had it edited when they distributed Arista. New distributor, new version. It's available now in a 12" format only.
PATTI SMITH: Gloria
(Arista 135).
This is what happens when you fall off a stage and break your neck: your record company gets stuck for new product and pushes out 12-inch pressings of old singles. She's a rare and precious talent, and I love this, from the slowburn blankverse intro to the storming climax, but there can't be many potential buyers who aren't already familiar with it. But Patti fans will want it for the flip, which has that amazing live versioi of 'My Generation featuring John Cale, but this time in it's uncensored form. Incidentally, this record arrived in a scruffy brown paper bag. Very street, very ethnic, but speaking as a bourgeois materialist I 'd have preferred a glossy picture sleeve.
(Sounds Sept10th 1977) Release their double package today on Virgin Records The debut 45 'Dancing The Night Away' and the debut album entitled '1'. For the full blown review of both 45 and album go
HERE!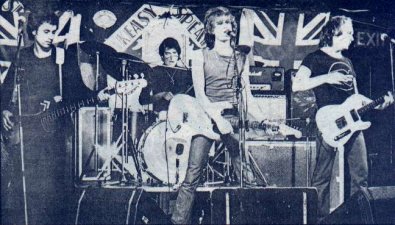 ONLY ONES
return to their favioured waterin hole the Speakeasy tonight. THE VICTIMS
Ross On Wye, Harveys GENERATION X

begin a two night stint at

Barbarellas, Birmingham.





THE DRONES

Edinborough, Clouds




THE JOLT

Red Cow, Hammersmith, London




LITTLE ACRE

RIFF RAFF

Nashville, London




Ashtray & The Dogends

Steventon, Village Hall




the tools

Marquee, London




Middlesboro, Rock Garden




TOM ROBINSON BAND

Scarborough, Penthouse




BETHNAL

Lafayette, Wolverhampton




THE TABLE

Plymouth, Woods Centre