1977
DATE INDEX
OCTOBER
NOVEMBER
DECEMBER
THE NEW HEARTS
are an Essex four-piece "pop punk" band. They have just signed with CBS Records in the UK and will be recording their debut single immediately. Titles considered have been narrowed down to two originals, "Just Another Teenage Anthem" and "Blood On The Knife." Producer Kenny Laguna will oversee the sessions. The band is made up of eighteen year-old David Cairns lead guitar, John Harty on bass, lan Paine on lead vocals and drummer Matt Maclntyre formerly with the Hammersmith Gorillas. The New Hearts' style of pop will shift full gear to a mod style when lan and Dave split off to start Secret Affair and start having UK chart hits in '79. Meanwile before all that Mod rubbish the band play Dingwalls in London tonight.
Siouxsie And The Banshees
The last time Siouxsie and Steve Spunker (bass) were in Paris was to see the fledgling Sex Pistols play their first French dates. Now they're back with their own band and headlining in their own right. The Banshees return for a 4 night stint at the punky GI Bus Club, Paris.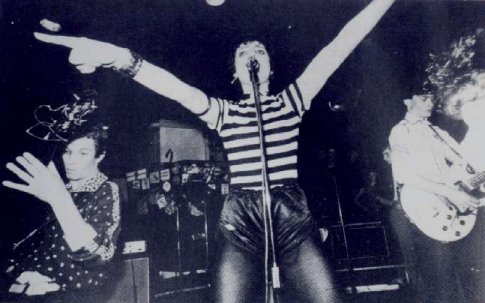 X-RAY SPEX

THE TOOLS

THE CRABS

THE LOSERS

Vortex, London




THE ADVERTS

Barbarellas, Birmingham




SPITFIRE BOYS

SUSPECTS

Roxy, London




Tiffanys, Scunthorpe






GENERATION X

JOHNNY CURIOUS & THE STRANGERS

Marquee, London




Woods, Plymouth




XTC

DOLE Q

100 Club,London




ALBERTOS Y LOS TRIOS PARANOIAS

'Sleak'

Londons Royal Court theatre.




HAWKWIND

BETHNAL

City Hall, Newcastle