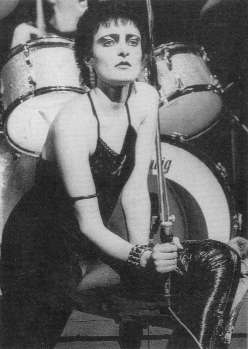 SIOUXSIE & THE BANSHEES
ADAM AND THE ANTS
THE NASHVILLE, LONDON
YOU WISH they all could be SS Girls? OK, Ilse The She-Wolf never was my cup of barbed wire-and besides, Siouxsie Q don't swoon for swastika armbands anymore. Now maybe someone will throw up a contract...
Etched in red and black (good marching colours) the Bromley madchen hits The Nashville... such a lousy locale for one you'd expect to trade seig heils with down in the bunker. In fact, the biggest shockhorror from the mire of Siouxsie's allegedly Nietzchean nature was the frail, coy passes she made at the air with a raised hand in search of a Nazi nuance. Songs such as 'Helter Skelter' and 'Love In A Void' resound with automation rather than National Socialist partialities; neat beat songs of sick, slick love structured around machine-man scenarios or callously culled from dehumanised headlines.
The normal Chinaman-in-a-bull-shop barnstorming tedium of all the legions of honorary bored teenagers is liquidated in deference to the Banshees' blank and hollow Lou Reed-as-Sally Bowles chords, chords connect into bars around which Siouxsie swings her siren-whine - the whine to open your head...
Her voice is sharp and stark, her eyes are dead and dark as she paces out her ascribed lebensraum hand-in-stand with the microphone, her human-failings dance routine snappily executed - if a little repetitive. Her movements seem to be a mutated erosion of Debbie Blondie's chrome-blooded clockwork dollbaby patent.
While lacking the mass appeal of Gaye Advert or the real glee of Arianna Slit, Siouxsie has half a softcore following and a band that doesn't clutter the bare bones with the frills, as well as being handsome in a stretcher-case kind of way and a much neater conversation piece than all those fledgling punk pains festering down The Roxy.If goosesteps give you a buzz you'll have a ball, though I fear that whatever heights of minimalist muses she comes to capture, Siouxsie will never top her Sun centrespread.
(Julie Burchill - NME September 17th 1977)
Jane Suck from Sounds did manage to see the Ants and had this to say..."Among the evening's songs were his latest songs for the Jubilee; "Plastic Surgery" and "Deutcher Girls" as well as "Puerto Rican" and "B-Side Baby." Adam was even joined onstage by his "manager" Jordan, who sang lead on "Lou." Suck concluded her review with, "The Ants, their barbed sound guitar, bass drums (now a second guitar of keyboards would really be nice)- and jugular attack are not an immediate band, but the best bands never are. Unplug the jukebox, kids and learn about addiction..."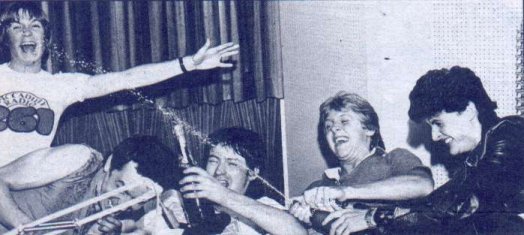 THE DRONES in a break from their tour with Slaughter And The Dogs have signed with local label (Valor Records). The signing took place live on Manchester Radio Station, Picadilly.They have a new single schedulled for release on October 1st which is rumoured to be 'Bone Idle' dedicated to their roadcrew.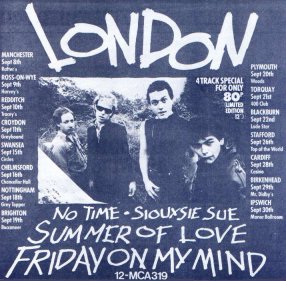 officially start their UK tour tonight in Manchester at The Rafters club. Support is provided by local outfit The Victims.
GENERATION X
Rotherham, Windmill
THE ADVERTS
Penzance, Wintergardens Falkirk, Maniqui




DEAD FINGERS TALK

Rochester Castle, London

TOM ROBINSON BAND

Mr Georges, Coventry




BETHNAL

Bradford, Princeville Club