1977

DATE INDEX
OCTOBER
NOVEMBER
DECEMBER
GENERATION X
,
who signed with Chrysalis four weeks ago, have their debut 45 "Your Generation" released today. The single was destined to be a theme song for the new wave movement in it's stance of, "Trying to forget your generation.. .your generation don't mean a thing to me." However all the music weeklies slagged it rotten. Sounds magazine described it as sounding like, "Cliff Richards and the Shadows on sulphate." In Record Mirror, pop star Elton John reviews the single saying... "This is really dreadful garbage. It doesn't do anything for me and the Ramones do this sort of thing so much better... Hear it first thing in the morning and you'll want to go straight back to bed. It's hideously recorded." They get no better reaction in (New Musical Express see below)The track is flipped with the powerful "Day By Day."
GENERATION X
'Your Generation' (Blank white label)
Ho ho ho. Generation X's debut single for Chrysalis has been slightly defused by the presence of a 1,000 or so bootleg' copies of an outtake version. Ho ho ho, "
Your generation don't I mean nothin' to me",
sings Billy Idol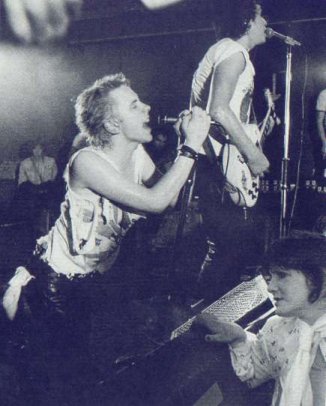 with all the spontaneous venom of a plastic rattlesnake over a wildly out-of-control scrap-metal back-up dependent almost entirely on recycled Who and Yardbirds cliches. Our generation means nothin' except a good source for stealing licks. huh? Well, screw you, kid!
(Charles Shaaar Murray - New Musical Express August 27th 1977.)

Winter Garden, Penzance
They wind up their series of Secret gigs at the Winter Garden in Penzance. The club billed them as "A mystery band of international repute." And only about 400 people witness the event, this is one of the few gigs on this secret tour where the secret was too well kept.It was filmed and recorded for posterity though.

THE BOOMTOWN RATS
are riding high these days. Their debut single "Looking After Number One" is selling fast and has been included on their debut LP out on Ensign today. On the back cover of the album, the Rats themselves appear to be dead in individual plastic bags. This gives the American Mercury Records Artist Development manager Mike Bone a brainstorm. He decides to send US radio stations the new single "Looking After Number One" along with a freeze dried dead rat in a plastic bag! The result is that not only the label managers at Mercury US come down on Bone, but so does the band, their management and the US Post Office (for sending hazardous material through the mail.) Rats personnel are :
Bob Geldof
(vocals, harmonica),
Gerry Cott
(guitar),
Gary Roberts
(guitar),
Johnny Fingers
(keyboards),
Pete Briquette
(bass),
Simon Crowe
(drums). Produced by
Robert John Lange
and recorded at Dieter Dierk's Studios, Stommen, Koin, West Germany. For the full review go
HERE
.

The Prefects
The Distractions
Rafters, Manchester High Wycombe, Nags Head
THE ADVERTS

Leeds, Polytechnic




ONLY ONES

Nashville, London




LONDON

Mr Georges, Coventry




TOM ROBINSON BAND

Mr Digbys, Birkenhead




DEAD FINGERS TALK

Rochester Castle, London




GLORIA MUNDI

Marquee, London

Bruce Foxton bassplayer celebrates his Birthday today. He was born in Woking, UK 1955