Seeing as today was pretty quiet on the news front here's an update on some of the latest punk related fanzines to hit the streets both here in the UK and abroad. Most of em ink stained masterpieces now residing in the Victoria & Albert museum 25 years later!...no doubt.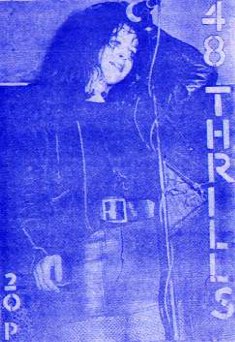 48 THRILLS
INFORMED/inside/ mainstream. Constantly changing, improving. Buzzcocks/Slits pin-ups. Excellent Dave Goodman (first Pistols producer) interview . . . recommended........................20p
GIRL TROUBLE 6: A focus on industry. The concept of the future? Compressed, rogue minimalist 'zine over both sides/one sheet. Limited edition of 50. Ephemera taken to its zenith. Now reaching issue 8 - collected edition prepared for New Year. (Manchester)..................4p
GUN RUBBER 6: (Sheffield) Commitment/alternatives: Precautions to take when sending tapes through the mail/DIY Records/Local gigs/bands/letters.
Cabaret Voltaire/2.3/Extras. Energy. Recommended............25p
HEAT4: (Dublin) Variety: familiar/ recherche. Outside punk: Lenny/ reggae/John Cale. Adventurous layouts, recognisable style. Free Radiators from Space sticker. 999/Hell/Clash/remarkable Adverts disillusionment..................... 30p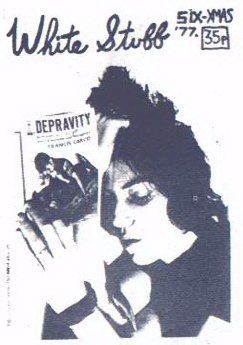 WHITE STUFF 6:
Pattizine reaches new visual heights/sophistication. 'No More Heroes' article by Glenn Marks/Henry Miller/Patti pix-trivia-on Rimbaud. Recommended......35p
PULSE: Montage/cut-ups of newspapers/poems. Attitude punk rather than specific music: welcomed for departure from strict music format and willingness to face the outside world: South Africa/ Paranausea/Teenage Spots/etc...30p
KID'S STUFF 7: Again developing its own (distinct) visual style. Buzzocks/Manchester/Pistols at Chelmsford Prison/Heartbreakers.. recommended........................ 25p
NOW for some of the worldwide zines that have sprung up in the US and elswhere. From basic zeroxine format to broadsheet - increasingly important for coverage of growing American scene.
BOMP17: (Los Angeles). Greg Shaw kept the flame alive through '70-'76: for that our eternal thanks. This issue unusually a UK punk ish, an introduction for US audiences and readers. You couldn't wish for a better. Disappointing in the narrow respect that coverage of obscure/new Americana lacking - but that's from a narrow UK standpoint - fanzine listing: write to PO Box 7112, Burbank, California, 91510 USA.
SEARCH & DESTROY. (San Francisco) Of the new "zines, the most highly recommended. Sophisticated blend of visuals/ conceptual excitement/dispassionate overview. And beautifully printed. 1: Nuns/Crime/Zeros/Alien Ginsburg/
2: Dils/DEVO/Clash/Screamers/ Weirdos/Ramones -
3: Patti Smith/Devo/Alt TV/Avengers/ Damned/International Fanzine directory: send your 'zines there, to City Lights Bookstore, 261 Columbus, SF California CA 94133
- help new world citizenry. Can't recommend enough..................65p
SLASH 3: (Los Angeles) Similar excitement/mania from LA. 3 contains Weirdos/Dils/DEVO/ Germs . .. recommended.........65p
PUNK 10/11: (New York). Attractive/slick/adventurous. 10: Blondie/Eno/Suicide/ - 11: Clash/ Crime/John Cale/Dictators - plus unfunny self-mutilation. Lacking moral fibre - less than the sum of its part..............................65p
FFANZEEN: (new York) Cramps/Tom Petty/Cramps pin-up. Xeroxzine format..................50p
NEWDEZEEZES: (SF) Xerox-style: Nuns/Screamers/Dils/Crime/ Damned..............................50p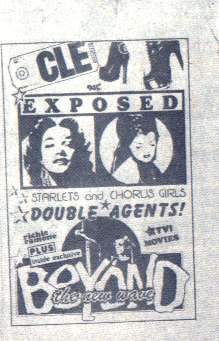 CLE:
(Cleveland) Pere Ubu/New Wave Projex/Mirrors/Residents/ Nuns/Ubu montage/Destroy All Monsters . . . highly recommended....................... .50p
Also spotted have been the following from around the world: availability at present uncertain:
PULP 2: (Australia) Saints/ Monkees/Residents/Cuban Boys/ Radio Birdman - xerox-style/stylish.
ATTACK: (Holland) Dutch reaction: editorial/scattered pix
ARTHOLES: (Holland) Clash/ dadaesque 'zine. Interesting.
NEW ORDER: (Berlin) PVC.
All the above could've been found at Rough Trade - 202 Kensington Park Road, London Wl 1, or Compendium Books, 234 Camden High Street, London NW11.
Masterswitch

Blitz

Menace

The Mistakes

Roxy, London

Mr Georges, Coventry




THE ACCELERATORS

Mr Digbys, Birkenhead




TONIGHT

Red Cow, London




THE CRABS

Sandpiper, Nottingham




WIRE

NEON HEARTS

THE KILLJOYS

Town House, Wellington

The planned gig at Rochdale, Champness Hall is cancelled due to local council pressure.




SIOUXSIE & THE BANSHEES

AMSTERDAM

Dixieland Showbar, Colwyn Bay




Marquee, London




THE REACTION

Music Machine, London