Complete Control/The City of the Dead (CBS)
At last it's here.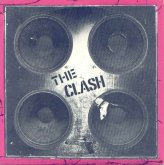 The new single. And it's a killer. Stone dead. In your tracks. This is gonna annihilate ya. Intensity ain't the word.Forget "Remote Control". Forget "White Riot" even. This is The Clash at their unadulterated best.Startlingly powerful and absolutely unbeatable. Ain't heard a single with this impact since "I Can't Explain", "Jumpin' Jack Flash" or "Anarchy in the UK".Mick Jones sets the pace slashing searing, violent chords.Strummer spits and sneers out the lyrics with caustic bitterness:"This is Joe Public speaking" he leers with heavy irony.Simenon's bass line leaves track marks on your brain and Headon hits the skins as if his life depends on it.The chorus has a hook line that'd pull a shark out of water."You're my guitar hero", Joe shouts as Mick swings into a solo that leaves you grovelling for more.
The Clash have the ability to combine earth rawness with delicate subtlety.The overall effect is stunning. And listen to those words.They tell the other side of rock'n'roll's
story.Of manipulation.Of exploitation.Of the constant battle to avoid becoming a product in a world geared to packaging and labelling.Of how it really is.No punches are pulled and some people ain't gonna like it.The truth hurts and The Clash have shown the courage of their convictions yet again by choosing this as a single.It would have been easy simply to tone down the lyrical content, but this band has retained the honesty and the integrity that was, and hopefully still is, the very core and heartbeat of the new movement.
And don't forget the flip side. This is so original and different it just takes my breath away.The Clash with organ and sax,plus a bossa nova-type chorus! And it works.Nicky demonstrates his versatility whilst Paul's fretful bass line only emphasises the impact.The lyrics tell a harrowing tale of sex, drugs and violence(topical stuff).And the clever, catchy nature of the tune almost belies the reality of Joe's words.Jones' seemingly effortless guitar licks speed the song through relentlessly, and it is just so good to dance to..
If a better single is forthcoming in 1977 I'm going to be very surprised indeed.
(Robin Banks - Zig Zag September 1977)