1977

DATE INDEX

Ivanhoes, Huddersfield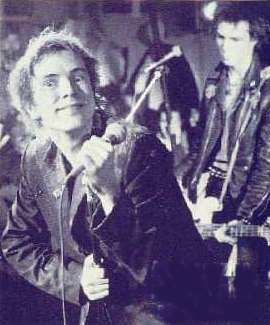 The last-ever British gig, by the loveable spike-tops in Huddersfield, was at a most 'un-punk' affair - a two-show benefit on Christmas Day. In anticipation of the following year's 'winter of discontent' mass industrial action, the firemen of Yorkshire had been on strike for nearly 11 months, and their children faced the grim prospect of a presentless Yuletide.
The Pistols became involved in the happening through a curious synchronicity - the promoter of a Huddersfield nightclub called Ivanhoe's decided to organise a charity show for the strikers. As he had recently booked the Ruts and the Skids (both signed to Virgin), he contacted the promoter for all the Virgin acts - London's Cowbell agency - and asked them to help out.
Word went through the music-biz grapevine to Malcolm McLaren's company Glitterbest, and the ginger Fagin, ever with an eye to publicity, thought that the proposed event would be "a good PR stunt." As fate would have it, at the same time, John Rotten had been hanging around the Virgin offices, and had come across a letter from a fireman's family to Richard Branson, which asked if the bearded grinner could dip into his vast pockets for the season of giving.
It's not widely known that, before he became the voice of disaffected youth, Rotten had been involved in social work with deprived children. Thinking it 'out of order' that the kids would have no prezzies that year, his and McLaren's wishes coincided for once, and the matter was settled - anarchy was going north. Tickets for the gig were priced at £1.75, but although many were sold to fans, the primary purpose of the affair was anything but commercial - no 'cash from chaos' here - and over 500 invitations were sent out to the children of Huddersfield firemen, laid-off workers from a nearby factory, and some local single mums.
Branson's office arranged buses for the kids, and Virgin and the band itself laid on hundreds of pounds' worth of toys, a huge Christmas cake, and lashings of pop. And what would a party be without sausage rolls? There were two shows arranged, one for the kids at three o'clock in the afternoon, and one for the adults at six. Before they played the afternoon session, the band handed out the presents, and one young lad in particular would never forget the gift he received that day. In 1977, what every boy wanted more than anything was a skateboard, but dad's strike pay was never going to stretch to that. Johnny had heard about this, and called the kid up to the stage and announced: "I hear there's one young man here who wants a skateboard."
It was a particularly fine, green specimen, with yellow wheels, and Sid handed it over with the solicitous advice.
"There y'go, son. Don't break yer fackin' neck."
Skateboards weren't the only goodies on offer - the Pistols had commissioned a bushel of sprog-sized T-shirts, which were destined to become collector's items. Some were shiny, yellow nylon, with the slogan "Never Mind The Bollocks", and some were white cotton, with the lurid pink and green American 'Bollocks' sleeve. Johnny himself wore a custom-made black T-shirt which bore the legend "Never Mind The Rich Kids, Here's The Sex Pistols", a sarky dig at ousted Pistol Glen Matlock's new band who had played Ivanhoes a matter of days ago.
After the debacle of the Brunel gig, where Sid's drug psychosis was horribly apparent, and the band were rapidly coming to the conclusion that it was all falling apart, Christmas Day saw the lads feeling like a gang again, a proper unit - Steve Jones said "It was the first time we'd got on like mates for months." They were all enjoying themselves, even Sid, who was forced by the presence of the kids to confront his own ridiculousness: ". . . he couldn't cope at all with having kids in the audience," said Johnny. "Just couldn't handle it. They just thought he was a buffoon. And he knew they knew. And he was."
CAKE
Despite this, Sid was so into it that he did a solo encore - Johnny Thunders' "Chinese Rocks" and "Born To Lose." He even 'played' bass, although according to Rotten he was "musically the most useless individual to set his feet on God's green earth." His value lay in the fact that, as Steve Jones observed "He had the image - he was punk rock, and he sold the T-shirts." Everyone was having a laugh - even Nancy Spungen was bouncing tots on her knee, and Johnny was shoved into a huge gateau by a gang of six-year-old girls; "Savage beasts," he recalls. "That was great, that was. So good."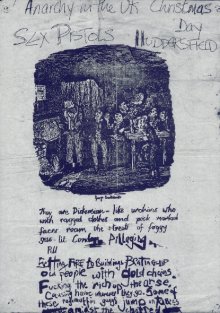 But Malcolm was not happy. The day's events were all being filmed by Julien Temple, and McLaren didn't like the idea of his 'pet anarchists' being seen as family favourites - his handwritten handbill for the gig at Ivanhoe's, known as the 'Oliver Twist Manifesto', features a Cruikshank illustration and is a scatological statement of Talcy Malcy's Fagin-fantasies. It's probably the closest thing to that modern vileness, the 'mission statement', the Pistols ever had. And it's very rude. Huddersfield wasn't meant to be the Pistols' last-ever British show - the band was booked to play the Rainbow on Boxing Day - but the boys decided against it; "Christmas Day was a brilliant gig," said Steve, "and we thought we couldn't top it -so why play London?" Johnny was sick of the metropolis anyway, as the police were always raiding his flat, searching for non-existent drugs.
Luckily for fans and rock archivists, there is a rich trove of images from the Sex Pistols' swan song; top pop photographer Kevin Cummins was present, while excerpts from Julien Temple's movie footage can be seen in The Filth And The Fury. Sadly, most of the clips are silent, as the batteries on the sound recorder ran low - a not uncommon problem with Pistols film, with its often limited budget.
Christmas in Britain is a time for out-pourings of forced fellow-feeling and vulgar sentimentality, and it's ironic that a band which stood against this kind of hypocrisy and falseness should end its domestic career in such an 'English' way, and with such an unexpected counterpoint to their 'enemy of the people' reputation; which is probably why the subsequent American shows, far closer in tone to the Pistols' public image, are more infamous. Christmas Day at Ivanhoe's deserves to be more well-remembered; in a way, it was the end of an era - in less than a month, the Sex Pistols would be split asunder, and in little more than a year Sid Vicious would be dead ...
(JACK KANE - Record Collector December 2000)