1977

DATE INDEX
NOVEMBER
DECEMBER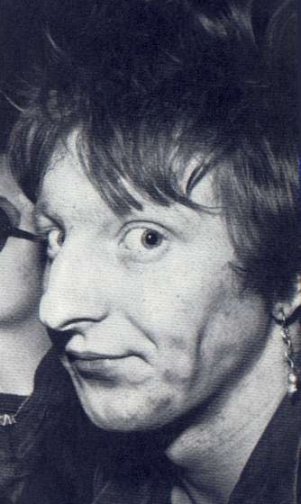 More rhythm section problems besiege the Damned. Drummer, Rat Scabies, went bezerk and quit the band last night in the midst of the band's short European tour. He spent two days trying to fly home to London in a drunken blur. The Damned are having a damned bad time and Rat has been unhappy with his lot for some time. Their tour of the US, failed to find them a US record deal, their lack of press attention on the subsequent UK tour was a major rebuff and now riots and cancellations are greeting them in France and Switzerland. So in a drunken fit of depression Rat smashes up a bar and leaves the Damned. For the time being, Dave Berk, borrowed from Johnny Moped's band, sits in to complete the dates already committed to.

"It was during the European tour and he was actually thrown out!"
(Captain Sensible remembers it differently)
THE ELECTRIC CIRCUS
Final night for the punk club and the Manchester punk scene says farewell as the newest and the best come out and play. The show starts with doom-rockers Warsaw. Then come The Prefects and The Worst. There's also some in between band interruptions by the hilarious punk-poet John Cooper Clarke. Then another new group, The Fall, who are followed by the long awaited debut of Magazine. This is the new group fronted by ex-Buzzcock Howard Devoto. With equipment they borrow from the Buzzcocks, Magazine play three songs; "Shot By Both Sides," "I Love You You Big Dummy" and "The Light Pours Out Of Me." After Magazine, the Buzzcocks come on to bring a rousing end to the evening. As a final closing, John The Postman (aka John Ormerod, a real-life singing postman) comes onstage and lurches into "Louie Louie" as the stage fills with a sing-along audience.For the full review go
HERE
.
Queensway, Dunstable




THE PREFECTS

Jenks, Blackpool




THE DEPRESSIONS

Greyhound, Fulham, London

Chancellors, Chelmsford




THE YACHTS

LEW LEWIS

Roundhouse, London




NEW HEARTS

Nashville, London