1977

DATE INDEX
NOVEMBER
DECEMBER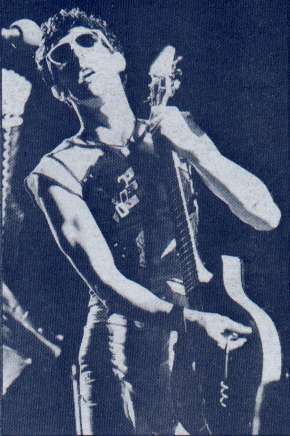 Roundhouse, London
SONIC ATTACK
THE SONIC assault the Vibrators pitched at their one-off gig before departing for Canada wasn't so much a concert as a juncture.
The Radiators From Space opened but their set became a disaster partly due to the abysmal sound and they were dogged by bad luck, broken guitar strings, feedback. You name it, they had it.
999 played an amazing set with two encores for the rapturuous audience which featured a strong contingent of their own fans. They've made a 100 per cent improvement since the beginning of the tour and now have the confidence and control both to play the material - which has also made a drastic progression - and to stage an entertaining show.
The Vibrators were a success. A little erratic at first maybe but nevertheless a success. By the excellent fifth song 'Psycho' they had the audience sussed and with Knox's mild provocation they were being loved and hated simultaneously: loved because they were the Vibrators and hated through sheer envy. The band loved every second of it. Ellis with his staccato pirouette looked like a demented prima donna and Knox seemed to glean a sadistic satisfaction from the reaction. But it was Gary Tibbs who blatantly radiated sheer pleasure in every look and movement.
They stormed through 21 numbers and still returned for two encores, playing as if it was their first time on. The music is basically punk but with strong heavy metal overtones, particularly on more recent numbers like 'Troops of Tomorrow' and the encore, 'Nazi
Baby' where they could give any 'established' headbangers a run for their money. It was all strong stuff though with classics like 'Flying Duck Theory' and 'War Zone' showing exactly how much they've improved of late. It's just a pity it WASN'T the debut show of the whole tour. (KELLY PIKE Record Mirror october 22nd 1977)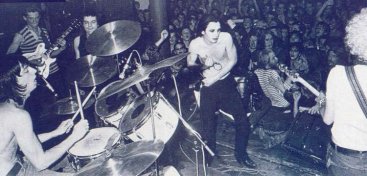 are still playing Europe with a stand-in drummer Dave Berk. They play the Bataclan, Paris tonight.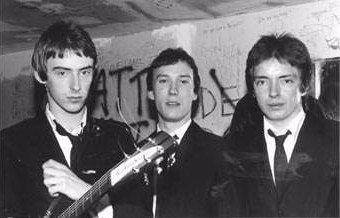 CBGB's, New York, USA.
Playing the final night of the tour, after one of their better sets, Paul encouraged the audience to remove the seating. The temperature rose as the venue was trashed and Paul, on stage, announced that The Jam were splitting. Which just about killed Chris Parry (Polydor Records), who had tried to make amends to his record company contacts by shipping them out to this gig instead, alongside members of Polydor UK who had specially flown in.
Apollo, Glasgow

A number of Glaswegian councillors attend

tonights gig to check on the group's behaviour.Hugh Cornwell has spotlights shone on them in the stalls and

dedicates 'Ugly' to them.




.Radio Stars

University, Keele




THE CRABS

Southhill Arts Centre, Bracknell

Nashville, London




WISHBONE ASH

City Hall, Newcastle




CHRIS SPEDDING

NEW HEARTS

Greyhound, Croydon