1977

DATE INDEX
NOVEMBER
DECEMBER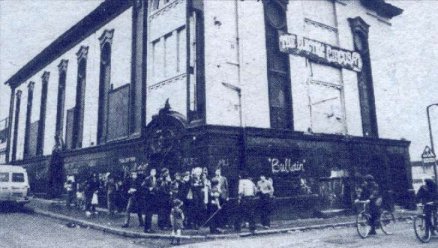 THE ELECTRIC CIRCUS
punk venue in Manchester
is about to close, reason being council officials deem it unsafe unless a major refurb is carried out. Well that ain't gonna happen due lack of funds and time has run out! This is the weekend that Manchester dreaded. The Circus was the first of the Manchester new wave venues and an important catalyst in the brewing underground music scene. It's final two nights start tonight. All of the local talent has gathered for the two day blow-out. .Tonight's show starts off with sets from
The Panik
,
The Negatives
and
John The Postma
n. Then
Manicured Noise
and their associated electronic noodlings, followed by
The Swords
and Liverpool's latest combo,
Big In Japan
.
Next up are
Steel Pulse
with the best in reggae this side of Birmingham, followed by a closing set from
The Drones.
Being charitable to the very end, the receipts from the club's closing nights is being directed to benefit cancer research. To capture the excitement of this two day event, the Virgin Sound Mobile recording studio is on hand to catch every moment on tape, for a recording that will come out next year under the title "Short Circuit."
THE DRONES
RECENTLY signed to Manchester's Valer Records have their first single for the label out today and it's called "Bone Idle" b/w " Just Want To Be Myself."

have started a promotional tour at Bristol Polytechnic tonight, to promote their forthcoming LP "L.A.M.F." (Like A Mutha Fuckah). However it was not the only thing the group was promoting: the title of one song on the set, 'Chinese Rocks', amply described a further influence that Johnny Thunders was indiscriminately spreading around him on London's punk scene. His smack addiction made Thunders' increasingly erratic and the drug-induced behaviour was having a negative effect on his own group. Even his long stalwart Jerry Nolan, himself no stranger to heroin addiction, was tiring of it. Yesterday afternoon at four o'clock without warning, drummer Jerry Nolan announced that he was quitting the band. Johnny Thunders hurriedly gathered up some phone numbers and called Sex Pistol drummer Paul Cook down to the gig at Bristol Polytechnic to help out for the evening. Cook bought with him Steve Jones to add further guitar parts. Both Pistols played with the Heartbreakers in a gig that carried all the now characteristic aggro of a punk night out: when soccer hooligans tried to trash the hall, they knocked the promoter unconscious. But at least the Heartbreakers got five encores. Soon Steve Jones was to join Sid Vicious as the next heroin-addicted member of the Sex Pistols.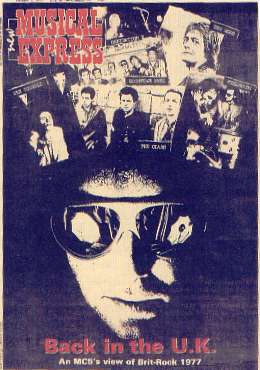 Back In The UK
Todays edtion of the New Musical Express features a hired expose of the current British punk scene. The laidback Rob Tyner of MC5 fame tours the hellholes of London and reports his findings. It makes for a great read!
THE DICKIES
Make their world debut just 3 weeks old at the Whiskey in LA, USA.
Kursaal, Southend
IGGY POP

Final night of his UK tour

THE ADVERTS

Rainbow, London




Barbarellas, Birmingham




THE PIRATES

GENERATION X

SOFT BOYS

Pollytechnic, North eAST lONDON




Art Attacks

Nashville, London




ONLY ONES

BAZOOMIES

Marquee , London

?,Zurich




Red Cow, Hammersmith, London




PENETRATION

TUBEWAY ARMY

Roxy, London




THE MODELS

Erics, Liverpool




ALBERTOS Y LOS TRIOS PARANOIAS

'Sleak'

Londons Royal Court theatre