1977

DATE INDEX
NOVEMBER
DECEMBER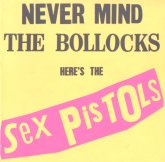 debut
album "Never Mind The Bollocks" is on the streets less than an hour and has already been blocked from sale at Boots, Woolworth's and W.H. Smith department stores. The album is being rush released today, a week earlier than originally planned to thwart the 'Spunk' bootleg versions already in some shops. The LP has been the subject of change after change from Pistols manager McLaren, with Jamie Reid's sleeve artwork being re-worked repeatedly up until the last minute. Even the disc itself was originally planned to have eleven tracks, but now it will feature the additional song "Submission" at the band's request. Since the presses were already busy when this decision was made, the extra track will have to be included on a one sided single in a small quantity of the initial 200,000 albums. There is also a full color poster montage available in Virgin shops upon purchase. Advance orders topped 125,000. This gives the LP, Gold Disc status even before it's left the Virgin warehouses. The album will be pressed up by Warner Brothers in the US, however advance orders for the album were not nearly as frantic there as in the UK. The LP which comes in the provocative title "Never Mind The Bollocks, Here's The Sex Pistols." coined from guitarist Steve Jones.
For the full review go
HERE.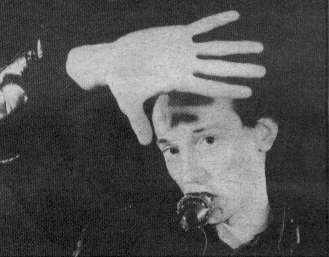 MAGAZINE
make their official live debut tonight at the Rafters club in Manchester.
Lead singer Howard Devoto started the show with "Hello we're Magazine and my name is Adam Faith.." Then they launched into "Shot By Both Sides." A great start for a band that came together only about two months ago. Hopefully Devoto remembered the words to this new set of material. He confessed to Sounds this week that "When I forget the words I make noises that sound like words."Opening up the show is another new hometown band, The Fall who sadly don't earn any press coverage yet.For the full review read below...
Magazine
Rafters, Manchester
MAGAZINE: two full performances old.The first, at Rafters, a chilling triumph, in front of a capacity audience, of calculation, performance, and power.
The second, a special So It Goes set, no less staggering for such a young group, if slightly edgy as a result of tedious hanging around prior to the set.
Magazine, as can he expected, are still a little fragile, despite the strength of their music. Their audience, there by default, appear bemused, confused, reluctantly curious, fascinated hardly daring to stare straight into frontman Howard Devoto's eyes. A few half-hearted smartass shots are dealt with. Devoto has control of the band and the audience, but, if we only knew it, perhaps not himself.
His concerts, with Buzzcocks, with Magazine, possess an abstract-aura that's just a little unnerving. In the presence of something special. Devoto's new group are a Rock Group. A 1978 Rock Group, nothing to do with M.O.R , bright lights, smoke, naive illusions/delusions. Magazine, paradoxically considering the immense magnetism of Devoto, are in a unit-pace, texture, control, plus . . POWER.
Instruments fight around, revolve around, each other. John McGeoch's thick guitar work, welded and driving with almost desperate solos/licks; Barry Adomson plays some quite awesome bass, twisting and turning, dragging within the songs, lusty and adventurous; Martin Jackson's drums are honest, but, at the moment anyway, the only real hint of a weakness, and Bob Dickin-son's careful touch-keyboards give flesh and colour with deceptive simplicity.
Devoto's voice is pained and emphatic. It seems a lot more inflexible than previously, but just as direct, and he's still dealing with the ostensibly small things in life, their absurdity, but within that their importance, their hold. And there's light at the end of the tunnel. He delivers as if something within is holding him back, like he constantly needs to wrestle with himself to spit out the words. His eyes stare out through carefully applied mascara, over the audience, searching out some distant accuser. The audience are treated almost with contempt. But they listen, absorbed.
There are some tough songs, which possess immediate sophistication, unlike the short riff nuggets Devoto conceived for his initial rock involvement, Buzzcocks. Plenty of body and constructional health Songs build, strip away, surge, they're layered and moulded. They nod to the functions/mechanics of structured Eno, latterday Bowie/ Iggy, Disco but roll out with some unique and speculative distinct whole. Remember, too, that this was their second gig . . .
Devoto, ever alert to impending changes and not a little involved himself in making those changes, is ahead again. Like Stapledons Odd John he can't suck the same piece of sugar for ever.
(Paul Morley New Musical Express December 3rd 1977)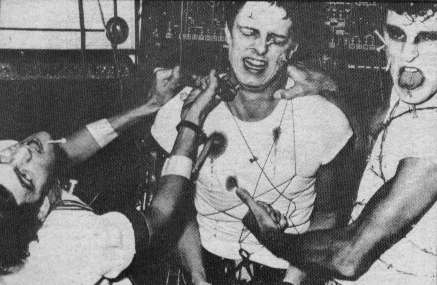 America's most outrageous band, are coming to Britain as part of their first European tour. They tour the UK in early November including a TV aapearance on the Old Grey Whistle Test on November 8. The nine - piece group will be carrying their full US shock horror show Including whip wielding auxiliary dancers and other spiky performers. They will also be recording a live album while on tour in Britain and a 12in single with three Tubes classics 'White Punks On Dope', 'Don't Touch Me There' and 'What Do You Want From Life' which hit the fan today out on A&M Records.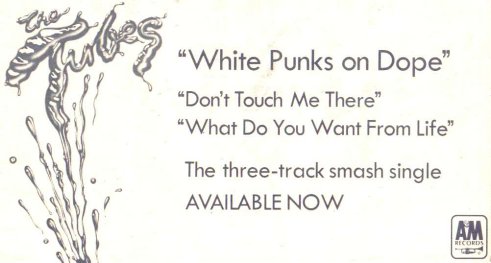 have a three track maxi single issued today by Track Records. The "A" side is "One Track Mind," a track from their LP "L.A.M.F." The "B" side features two previously unreleased recordings of "Can't Keep My Eyes Off You" and "Do You Love Me."
RICHARD HELL

& THE VOID- OIDS

THE LOUS

Polytechnic, Newcastle

Not Richard Hell's kinda tour after all. He gets a firework thrown in his face at tonights gig.




Eric's, Liverpool




THE ADVERTS

RAGE

Clouds, Edinbrough





New Hearts

Mistakes

Meat

Roxy, London





THE DICTATORS

University, Surrey




GENERATION X

Kings College, London




BETHNAL

Rock Garden, Middlesboro




University, Reading




Porterhouse, Retford




ONLY ONES

College, Bedford




JOHNNY CURIOUS AND THE STRANGERS

Mid-Herts College, Hartford