1977

DATE INDEX
NOVEMBER
DECEMBER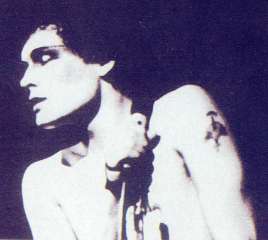 Adam & The Ants
play a rere gig outside the metropolis at Plymouth, Top Rank, but didn't impress this reviewer...
NEXT, PLEASERS, NO DICE,
STEEL PULSE, ANTS,
Top Rank, Plymouth
A FRESHERS' ball for the local Poly with a weird mixture of punk, reggae and rock sounds like something to be avoided at all costs. But by some musical quirk it worked and a 1,000 sell - out crowd really showed their enjoyment - a rare sight in the West Country.
The only dis-appointment of the long evening - six hours of live music and disco - was the first group on. For a new wave band, Ants were surprisingly low in speed and energy as well as talent. Between numbers they didn't stop for applause . . . which was just as well. Having played gigs with Generation X and the Slits, Brummie reggae group Steel Pulse know how to follow punk. They proved that not all reggae is repetitive, with some Beach Boys style harmonies and an amazing variety of percussion arrangements. The audience probably didn't notice . . . they just danced on. Without doubt the hit of the night was No Dice. They played straightforward raucous rock and it went down a bomb. The bass rhythm came up through your legs and Peaches' vocals bit you right between the ears. Not subtle but very, very tight. Not much to say about the Pleasers. They just do very good imitations of early sixties' numbers and people like them. 'Nuff said.
It was a great shame that Next, a cross between Genesis and Jethro Tull (well, sort of!) had to compete with the effects of a 2 am bar extension. They lost but they're well worth a listen when sober and awake.The freshers not so fresh.
(Chris Rushton - Record Mirror October 22nd 1977)

release their new single 'Lock it Up'/ 'Jeepster' today with Dave Goodman's record company The Label. The B-side is a fitting cover of the Marc Bolan track, since Marc's unfortunate death in a car crash two weeks ago. Their debut LP imaginatively titled 'The Album' will be issued on November 11th along with a UK tour.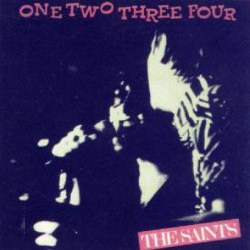 Have returned to the UK for a permanent base but lost Ed Keuoppper on the way . They have aquired a new UK bassplayer, Alistair Ward who went onto join the Damned in 79. They play two night stint at Barbarellas, Birmingham tonight.They have out a four track single today entitled "One, Two, Three, Four." Two are originals, "One Way Street" and "Demolition Girl" and two are covers "Lipstick On Your Collar" (Connie Francis) and "River Deep Mountain High" (Animals, Tina Turner et al.)
AUSTRALIAN SINGLE OF THE WEEK
THE SAINTS: "One, Two, Three, Four' (Harvest 2HAR5137).
Here, as far as I can tell, we have four familiar Saints numbers which have been given a proper studio treatment as opposed to their previous demo form. This is actually a double single, if you know what I mean, and the fold-out packaging is rather nice. However, as far as I'm concerned there's only one good song on it - 'One Way Street'. It's one of their better originals, certainly far better than 'Demolition Girl', the other original herein. The other two tracks are the old Connie Francis number 'Lipstick On Your Collar' and Ike and Tina's 'River Deep, Mountain High', neither of which deserve the brutalisation they receive from the Saints. You gotta find some originals as good as '(I'm) Stranded', lads. Please.
(Sounds October 15th 1977)
the Manchester "punk poet" Has got down 3 tracks down on the new local punk label Rabid Records. The EP features; "Suspended Sentence," "Innocents" and "Psycle Sluts." His rapid fire delivery of offbeat images of back street scenes has been entertaining crowds before concerts in Manchester for the past several months. The backing band, not listed on the single, is referred to as The Narks they are: Clarke (vcs), Scott (gtr, bs), Eric (gtr), Middie (bs), Joe Viality (drs), Zero (perc). Early pressings are available in a special gate-fold sleeve.

"It's not pointing the finger at anything definitely.
I don't want to put a meaning on it."
John Cooper Clarke,1977
JOHN COOPER CLARKE & THE CURIOUS YELLOWS
'Psycle Sluts' RABID, OCTOBER 77
WORKING IN the storeroom at Salford Poly, 'punk poet laureate' Johnny Clarke graduated from folk clubs to Buzzcocks supports via an association with The Ferrets and this arresting debut 45. Sounding nothing like a regulation punk single (or any other single for that matter, unless there's a lost collaboration between Kraftwerk and Stanley Holloway stashed somewhere), this EP launched Clarke on a sporadically successful recording career. It also launched the career of its celebrated sound-sculptor, Rabid house producer Martin 'Zero' Hannett. Much imitated but never equalled, Clarke's splenetic, speed-fuelled orgy of puns and surrealistic rhyming gags still thrills on-stage. (SR)
Writers: John Cooper Clarke, John Scott
Producer: Martin Zero
(Mojo Magazine October 2001)
Malmo, Sweden




Herriot Watt University, Edinboro




North London Poly, London




HAWKWIND

BETHNAL

Pavillion, West Runton

JOHN COOPER CLARKE

NEW HEARTS

Polytechnic, Liverpool




THE ADVERTS

BLUNT INSTRUMENT

Imperial College, London




Eric's, Liverpool