1977

DATE INDEX
NOVEMBER
DECEMBER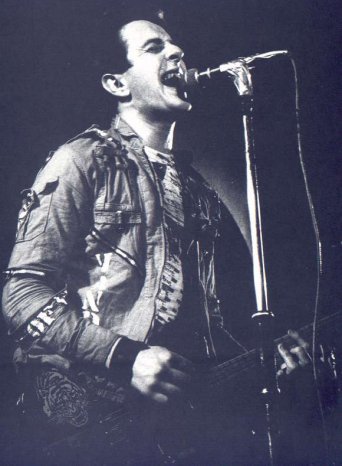 Munich, Germany
A German film crew led by Wolfgang Bund had visited London in mid September to make a documentary entitled Punk In London '77 (released in 1999 Studio K7 video.. Wolfgang did not get to film the Clash at that time - he had to make do with interviewing Roadent instead - but now took the opportunity to capture part of the band's set in what resembles a large school hall in Munich. A high stage and bright onstage lighting make for a poor atmosphere but a clear view as the band - Mick and Joe in bright red/purple Pop Star Army Fatigues, Paul in a fetchingly ripped fishnet top - perform 'Complete Control', 'Hate And War', 'Police And Thieves' and 'Garageland'. The camera is fixed on Joe throughout 'Hate And War', in spite of the fact Mick is singing lead; during 'Garageland', the cameraman wanders onstage for a close up, only to be prodded off again with the base of a microphone stand by a clearly angry Joe. A backstage interview finds Mick at his most obnoxious, moaning about the lack of vegetarian food, not having been able to find a hotel for the night, and Germany in general: 'We're not coming here again! It stinks.' By contrast, Paul is charm personified as he explains the problems the band have encountered with the country's more upright citizens and police. Here's an example...
After arriving exhausted in Munich the Clash checked into a hotel and immediately fell asleep on their beds fully clothed. The hotel management apparently took exception to this (how did they know the Clash still had their boots on anyway?) and called the local Polizei who barged into the room, woke the band up none too politely and informed them that they would have to find alternative accommodation for the night. They did eventually . . . a hundred miles away. If that wasn't problems enough, one of the geezers following the band around kindly offered to do the band's laundry, refurbishing their very grubby white clothes. He did it wonderfully, the clothes coming back TV advert clean. Unfortunately they were all purple. For reason known only to himself the bloke had added purple die to the wash. Purple Riot?

finally have their debut LP "L.A.M.F." released by Track Records today. The band has been playing around with the mixes for months and public demand for something other than a single has been great. The album features live favorites like "Get Off The Phone," "All By Myself," "Born Too Lose" and a remixed version of "Chinese Rocks" It's leaked that the fingerprints on the back of the LP are not those of Johnny Thunders as represented. They are, in fact, those of Francis Cookson, a friend of the Buzzcocks. Full review
HERE
. As a sidenote to Jerry Nolan's walk-out auditions for a replacement find another redundant drummer Rat Scabies trying out today. He did not take up their offer coz "They want Charlie Watts not a show off like me!"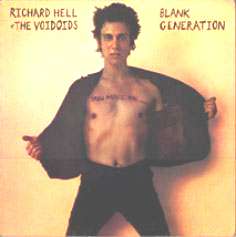 RICHARD HELL
is no stranger to making records. He has had his vinyl debut with "Blank Generation" out almost exactly a year ago on Stiff Records. Since then his band has grown tighter and tighter and his voice more psychotic. On his Sire debut LP you find "Love Comes In Spurts," "New Pleasures," "Walking On The Water," and among others, still another version of "Blank Generation." This is the record that led
Newsweek
magazine to label him, "The Mick Jagger of punk."
RICHARD HELL & THE VOIDOIDS 'Blank Generation' (Sire)
"Richard Hell identifies with no movement, with few people in fact. If you listen between the sonic blasts, his music is about a sense of aloneness beyond the old alienated antihero syndrome, but before that Richard Hell is a rocker. The music on this album is some of the strongest, truest rock & roll I have heard in ages. Like most great rock & roll, it stands alone; there are influences, not all of them musical and many of them literary, but he is no arty poseur, in fact this is also some of the most honest music I have heard in some time. As we trail out of the age of artifice (I don't think I have to mention any names), artifice itself rides on the coattails of most of those who proclaim themselves an alternative. Richard Hell is different. I hear echoes in this record of rock & roll from time immemorial, and they are not contrived, they are rather the modus of a plain-speaking kid with an awesome intelligence and a great pain to speak plainly of... The toughness of the music is just defensive armor, courtesy the searchlight-destructive tag-team of Robert Quine and Ivan Julian on guitars. In this album they have slashed out some of the most fitfully dangerous rock & roll I've heard this decade. If you think I say that lightly you don't know me. But at the center is Hell himself, his own ninth circle, pretending to be blank when his every move and word reveals a naked, impassioned intelligence in the throes of the only truly rock & roll artistic convulsion, which is to be driven so far into and paradoxically, simultaneously outside of yourself that you create as a matter of frenzy, instead of lowering your eyelids before the world in shame and loneliness."
(Lester Bangs - Rolling Stone 1977)
De Montford Hall, Leicester




TALKING HEADS

Also out on Sire Records today is the new single "Uh Oh, Love Comes To Town," and the non-LP flipside "I Wish You Wouldn't Say That"




Rochester Castle, London




SPITFIRE BOYS

Rebecca's, Birmingham




MANIACS

WARSAW PACT

Nashville, London




HAWKWIND

BETHNAL

Hippodrome, Bristol

At tonights SUBWAY SECT/NECROMATS gig at the Belle Vue, New X, London. A heavy handed bouncer beats a punk to death and is charged with Murder.




have their third single for Island out this week. It's "Rockwrok" b/w "Hiroshima Mon Amour." Both are original compositions that will be featured on their upcoming LP "Ha Ha Ha.". They play Swindon Brunel Rooms tonight.




WIRE

Hope And Anchor, London




ONLY ONES

THE DEPRESSIONS

SPEEDOMETERS

SKUNKS

Vortex, London