1977

DATE INDEX
NOVEMBER
DECEMBER


release their second album "Ha! Ha! Ha!" today on Island Records and will support it with a string of thirteen dates across the UK. Both sides of their single "Rockwrok" and "Hiroshima Mon Amour," are on the album. Although the version of Hiroshima Mon Amour' is a divverent version. Initial copies of the album comewith a free single 'Quirks' backed with a live version of 'Modern Loves' For the full review go
HERE
.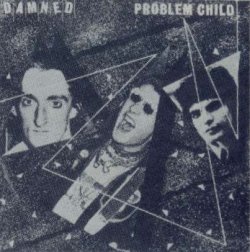 still on tour in Europe have their new single "Problem Child" and "You Take My Money" released by Stiff Records in the UK. "Problem Child" in no way reflects the recent departure of Rat Scabies. Heres the review...
THE DAMNED: 'Problem Child'(Stiff Buy 18).
Great Will it be a gigantic smasheroo though? It's certainly catchy enough to get plenty of airplay but it'll also be competing with the Clash and the Pistols to name but 15. My guess is that, despite the fact that we haven't heard much from them in a while, they've still got enough charisma to make us save up our pennies.chunky Who-type staccato riffing introduces a rather obvious 'you will identify with this won't you (please)?' line in lyrics. Actually it's the first time I've been able to make out most of the lyrics on a Damned song on first playing but I see this as consistent with the trend towards cleaner productions of new wave material.
(Sounds October 15th 1977)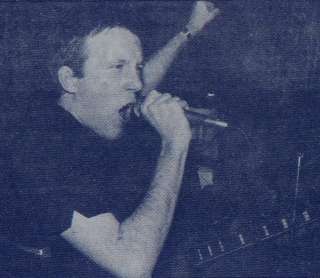 ALTERNATIVE TV
The Other Cinema, London
"SOMEONE 'ERE says we know the problems so what's the answer? . . . well, this is really depressing 'cos there ain't no answer. " Ultimate new - wave nihilism from Mark Perry - a prime punk thanks to his seminal fanzine Sniffin' Glue, now leading his own band, and far from the ragged idealism of the early SGs.
The band, thankfully, avoid overcrowded territory and sound in debt to the Velvet Underground, krautrock and talkover reggae. Highlights come early : 'How Much Longer' will make a superb single, listing stereotype - "They wear Oxford bags and spray their Ford Oortinas "-with a powerful chorus of "You don't know nothin' and you don't really care"; 'Love Lies Limp' Is reggae - derived, jerking potently as Mark attacks matters romantic. Still, they depress -Mark's vision is narrow and while many of his blunt observations are nail - sluggers he's without hope - the enemy, apathy, replacing healthy anger as dominant attitude. But they're important because they're unique, challenging, and - whatever else - adamantly real. (JOHN KNIGHT - Record Mirror October 22nd 1977)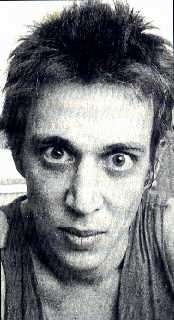 BLANK GENERATION
is a sixty-minute celluloid artifact celebrating some of the music being made in New york as '75 turned the corner into '76. A kind of filmed fanzine of its time, 'BG' was put together by film-maker
Amos Poe
and
Ivan Krai
of the
Patti Smith
Group. Like Don Letts' movie, 'Blank ..." was obviously a case of making the most of limited finances and equipment. Hence a necessarily choppy (eight minute cassettes used, as with Don's film) effect with one song and venue suddenly cutting into another. Plus the sound-track isn't synchronised, a fact which seems to have caused some observers
remarkable
difficulties.
Crapola. Where else can you see and hear Richard Hell and the Heartbreakers performing the title track, with the additional bonus of seeing Johnny Thunders going ga-ga while all around project terminal freeze-out? So who cares if the two performances don't blend exactly? Same goes for a goodly portion of the acts and music included here: a three-piece Talking Heads clip is accompanied by a Beserkely demo of 'Psycho Killer' plus the since forgotten 'Last Weekend'; Blondie indulge in appropriately silly Monkee-style hi-jinks as we hear the unissued 'Platinum Blonde' and 'He Left Me'; the opening 'Gloria' from Patti eventually gives way to an Arctic zone people show as Tom Verlaine, Tina Weymouth and Richard Hell seemingly compete to see who can look the most hopelessy destroyed. And Wayne County in his dustbin bride special, 'Funky Machine' from the Dolls' end-game, Harry Toledo, Tuff Darts (Robert Gordon period), Ramones, Shirts, Miamis ...
Big list; fascinatin movie. A sound-track album would be a blast too. Lemme see it once more soon, sezl. This unique, invaluable slice of modern history has finally arrived in Britain. A little late maybe, but still well worth applauding. 'Blank Generation' starts a two-week run at The Other Cinema, 25 Tottenham St., London W1 Goodge St. tube) this Friday (14th). The opening night's a benefit for the Other Cinema, a cause well worth assisting. Show starts at 8pm with live music from Alternative T.V. Potential bookers should contact Nick Jones, c/o Faulty Products, 27 Dryden Chambers, 119 Oxford St. London Wl - Giovanni Dadomo - Sounds oct 15th 1977
ELVIS COSTELLO
has his fourth Stiff single released today. It's "Watching The Detectives" b/w "Blame It On Cain" and "Mystery Dance." The "A" side was recorded back in May, before the Attractions even existed with Steve recording the keyboards this Autumn. Otherwise, the backing musicians were Graham Parker's sidemen Steve Goulding on drums and Andrew Bodnar on bass. The two songs on the flip side are live recordings from their Nashville Club appearance on August 7th. The matrix is a cryptic "little triggers but big tears" and "I think you know what I mean." Here's the review...
ELVIS COSTELLO: •Watching The Detectives' (Stiff Buy 20).
What an incredible year this has been for singles. Here's another one to add to the list of '77 favourites. This time it's the hypnotic beat rather than Elvis's biting lyrics which captures the attention. The thudding bass line and teasing keyboard work prove that the Attractions are more than just a backing band. However, for all that, its commercial value remains doubtful. The superb live version of 'Mystery Dance' on the 'B' side shows Elvis at his most danceable. After only one hearing "Can't do it any more and I'm not satisfied" stays nag-gingly in your brain forever. If this was the 'A' side perhaps the real 'king' would be at number one.
(Record Mirror October 22 1977)
THE DRONES

University, Liverpool




Rafters, Manchester




Jordan Hill College, Glasgow




THE CRABS

Town Hall, Axeminster




Barbarellas, London




GLORIA MUNDI

THE TOOLS

Marquee, London




THE SKUNKS

Eric's, Liverpool




HAWKWIND

BETHNAL

University, Lancaster




SIOUXSIE & THE BANSHEES

THE MODELS

THE KILLJOYS

Clouds, Edinboro




Top Rank, Cardiff




YACHTS

North Central Polytechnic, London




The Roxy, London




JB's, Dudley




JOHNNY CURIOUS & THE STRANGERS

Hatfield Polytechnic, London




THE WASPS

BABYLON

Dingwalls. Londo