1977
DATE INDEX
NOVEMBER
DECEMBER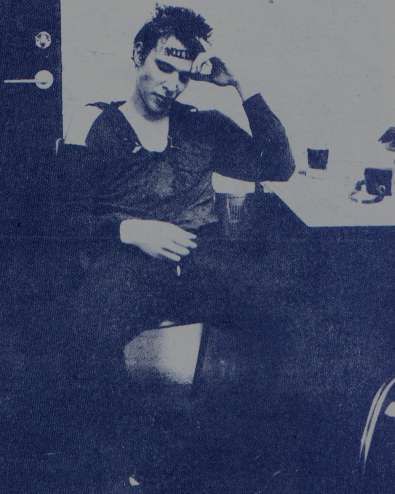 RICHARD HELL & THE VOID- OIDS
THE LOUS
Trinity College, Dublin
The Clash actually manage to kick off their tour tonight accross the border in Eire. However Richard Hell was assuredly in love with the "live fast die young leave a beautiful corpse" ethi, he was not having fun. A 1977 interview with Lester Bangs reveals a pretty tormented individual who really only wants to escape this life. He was doing his best to do just that, as well. Hell's drug habit had only gotten worse. And being booked onto the UK tour, as the opening act for The Clash did nothing to help matters. The harder core of Clash fans, looking for loud rock, had little patience with The Voidoids more sensual songs. The band was unimpressed with the Brits habit of spitting on performers and throwing things. Hell injured himself while trying to shoot up a Mandrax. Sire failed to release the album until after the tour was finished so could things improve? We'll have to wait and see?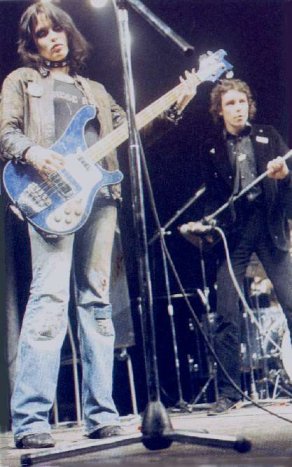 THE ADVERTS
begin another UK tour tonight at Wolverhampton's Lafayette Club to promote their new single due out on the 28th October called 'Safety In Numbers'.

"This gig was extra special for me as it was my first official baptism at a LIVE punk gig and what a band to catch eh....great gig!!! - Peter Don't Care

STEEL PULSE
Victoria Hall, Hanley
BETHNAL
Diplock Hotel, Eastbourne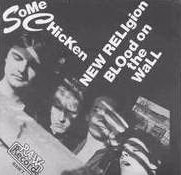 SOME CHICKEN
are a Cambridge band that has just had their debut single released by local record label Raw Records. This debut 45 is "New Religion" b/w "Blood On The Wall." The group is made up of Ivor Badcock on vocals, Jess Chicken on guitar, Galway Kinnell on drums and Terrv Bull on bass.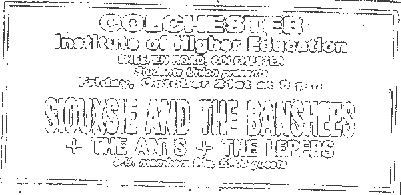 THE CRABS
Rafters, Manchester
MANIACS
Red Cow, London
Marquee, London




THE STRUTTERS

University, Bradford




BERNIE TORME

Royal Hotel, Luton




ALBERTOS Y LOS TRIOS PARANOIAS

'Sleak'

Roundhouse, London




THE KILLJOYS

Polytechnic, Leeds




WISHBONE ASH

Empire, London




BLACK SLATE

WIRE

Town Hall, Stoke Newington, London




Eric's, Liverpool




CHRIS SPEDDING

NEW HEARTS

Mayfair, Newcastle