1977
DATE INDEX
NOVEMBER
DECEMBER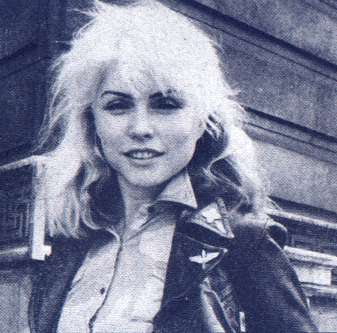 BLONDIE
emerge from negotiations with several major labels, announcing that the band has now signed to Chrysalis Records worldwide. They had previously been with Private Stock Records. At Blondie's recent Whisky engagement, Chrysalis Records announced that they have signed the band - apparently they paid half a million dollars to buy out the group's contract from Private Stock. For the dough, Chrysalis will receive the rights to all Blondie product including the first LP which will be reserviced under the Chrysalis logo.
During the four day stint, Blondie (with new bassist Frank "The Freak" Richard) broke all house attendance records performing songs from their debut effort, as well as tunes from their forthcoming platter. They also presented their interpretation of Iggy "Fun House," which has been rumoured as a cut on the upcoming work.
Chrysalis recording head Terry Ellis was present at all shows, while such groups as UFO, The Babys and the Runaways dropped in to catch a set or two.

begin a nationwide tour tonight at the Lafayette Club , Wolverhampton. The tour comes in the wake of their debut 45 '2-4-6-8 Motorway' out now on EMI.

THE RADIATORS FROM SPACE
finally have an LP to their name. As their previous two singles, the LP "T.V. Tube Heart" is on Chiswick Records. The thirteen track LP is all originals, with only one exception. Songs include their previous two singles "Enemies" and "Television Screen," although the latter has been totally re-recorded with 50% less fury and speed. Other titles are "Sunday World," "Press Gang," "Blitzin At The Ritz," "Ripped and Torn" and "Roxy Girl." For the most part the album will sound different from the other two Radiators records you own. Shortly before recording the LP, lead vocalist Steven Rapid quit the band and vocals were taken over by Phil Chevron. Rapid is present only on the recording of "Enemies".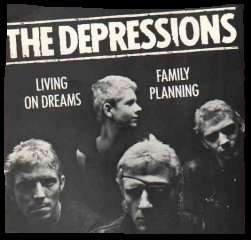 Have just released their debut 45 'Livin On Dreams' which gets worthy praise in Sounds (see below). The Depressions are playing London's Speakeasy club tonight, but they come up against some credibility attacks from rival music mag Record Mirror (see below). It's enough to make you depressed!...couldn't help that one!
THE OTHER SINGLE OF THE WEEK
THE DEPRESSIONS: 'Living On Dreams' (Barn2014 112).
The opening guitar riff, a little reminiscent of Tom Petty's style, grabbed my attention immediately when it was being played by someone else in the office. The Depressions are Chas Chandler's latest signing and I'd say if they can maintain the standard of the songs here (flip is 'Family Planning'), they have to be this week's Great White Hope. Kinda superior punk with plenty of rough edges but much more attention to melody. What I mean is they write good tunes, very Sixties-influenced, and what's more they don't throw them away on pointless lyrics. Nice line in bitter social comment combined with gotta-play-it-again feel. How can they fail?
(Sounds October 15th 1977)
THE DEPRESSIONS
Speakeasy, London
"LISTEN, those boys have had it really tough. They've all been brought up on council estates in Brighton. Wow ! My heart bleeds. Must be hard, paddling in the winter.
That was The Depressions' manager, incidentally, after he'd heard there was a none too favourable review ot 'his boys' single in last week's Record Mirror. The review stated the band used to be called Tonge and played heavy rock. Then they signed on the punk idiom with dyed blonde aggression and a banal line In Socio Syncopation.
The Depressions are like cod liver oil - hard to swallow. If they sincerely (friends) believe in what they're singing that sincerity is swamped by moronic sneers and carefully choreographed energy. Shame, because the band are no mugs when it comes to playing, a tightness rarely found on spit stage '77. But eye patches and black roots are no substitute for genuine, honest - to -goodness spontaneity. ' 'Honestly, everything I sing about actually happened to me. I ain't gonna try and change your views about us but we ain't shamming," says guitarist Dave Barnard. He's a nice feller. But I still ain't convinced.
(BARRY CAIN - Record Mirror October 22nd 1977)
PENETRATION

City Hall, Newcastle




ONLY ONES

Dingwalls, London




THE SKUNKS

Bucanneer, Brighton




THE CRABS

Hexagon Suite, Frome




THE MANIACS

Royal Hotel, Luton




THE STREETS

RENT BOYS

WHITE CATS

Notre Dame Hall, London

SIOUXSIE & THE BANSHEES

Tracy's, Ipswich




Marquee,London




DEAF SCHOOL

SPIZZ 77

Kings College, London




ALBERTOS Y LOS TRIOS PARANOIAS

'Sleak'

Roundhouse, London