1977

DATE INDEX
NOVEMBER
DECEMBER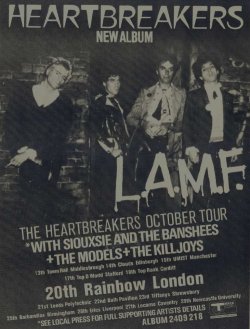 SIOUXSIE & THE BANSHEES
THE MODELS
THE KILLJOYS
Town Hall, Middlesboro
The Heartbreakers now with Jerry back in the seat all be it as a hired gun, take their smak inspired anthems to the UK populous with A rag bag of support coming from Siouxsie and more.

The Rat Club, Boston, USA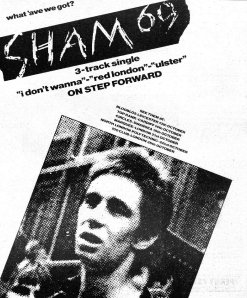 More tours are afoot this time on a far smaller scale. Sham 69 set out on a 6 dater to finally promote their 45 outside London. The 'What Have We Got' tour kicks off tonight in the glamorous location of BlooBlos in Coalville.
PUNCTURE
are the band selected to start another indie label in London. The Small Wonder Record shop, an East London (Walthamstow) specialty shop now have their own, "Small Wonder" record company. Puncture have the first single with their original songs "Mucky Pup" and "You Can't Rock And Roll." The quartet is Paul McCallum on guitar and vocals, Steve Counsel on bass, Anthony Keen on synthesizer and "The Fabulous" Marty Truss on drums. This song would be highlighted in the early 80's set of the Exploited where they do a blinding cover.
THE DRONES

Apollo, Manchester

Having been banned from appearaing at the original booking at Manchester's Belle Vue Elizabethan Rooms, because the owners Trust House Forte object to the band. A Stranglers spokesman had this to say... "Trust House Forte should concentrate on the food served up in their motorways cafes before they start worrying about punk"




Oddfellows Hall, Portsmouth




Casino, Wigan




Windmill, Rotherham

Town Hall, Hawick




Rebeccas, Birmingham




HAWKWIND

BETHNAL

Pavillion, West Runton

ALTERNATIVE TV

Speakeasy, London




FAST BREEDER

Polytechnic, Leeds




Katies, Nottingham




NEW HEARTS

Central Polytechnic, London




John Bull, London




THE CRABS

Chequers, Barnstable




JOHNNY CURIOUS & THE STRANGERS

Red Cow , London




SPITFIRE BOYS

Lodestar, Blackburn




ALBERTOS Y LOS TRIOS PARANOIAS

'Sleak'

Roundhouse, London




SNEAKERS

Greyhound, London