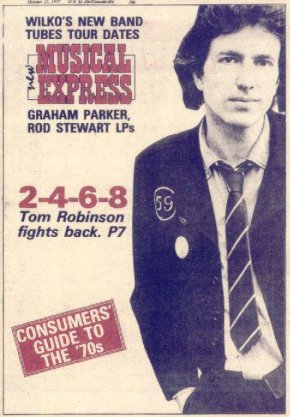 Tom Robinson Band get their first big press and a front cover on todays issue of the NME. The band still out on tour play the Polytehnic in Sheffield tonight while their debut 45 drives in the UK charts at a respectable 37.

Meanwhile in todays edition of the Record Mirror the Sex Pistols maybe keeping a low profile on the gig circuit but their new 45 'Holdays In The Sun' has shot straight in at number 15 in the UK charts. They even have their own story 'so far' turned into a cartoon strip in association with Skum magazine which appears in the centrepages of todays issue. Along with the Pistols other punks featured in this issue are gig reviews catching Alternative TV, The Vibrators, The Depressions in action....
OTHER CHART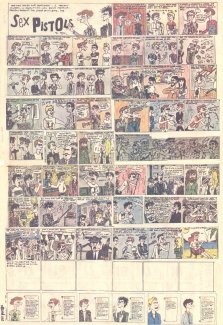 1 2-4-6-8 MOTORWAY, Tom Robinson Band EMI 45
2 HOLIDAYS IN THE SUN, Sex Pistols Virgin 45
3 YOU'RE COLD, The Jolt Polydor 45
4 VIRGINIA PLAIN, Roxy Music Polydor45
5 EL BAMBA, The Revolutionaries Skynote45
6 HEROES, David Bowie RCA 45
7 COMPLETE CONTROL, The Clash CBS 45
8 ROCKWROK, Ultravox Island 45
9 OH BONDAGE, X-Rav Spex Virgin 12""
10 PAIN, PVC2 Zoom 45
11 GARY GILMORE'S EYES, The Adverts Anchor 45
12 SAINTS AND SINNERS, Johnny And The Self Abusers Chiswick 45
13 LOVERS OF TODAY, The Only Ones Vengance 45
14 MARIJUANA IN MY BRAIN, Dillinger Papillon Import
15 HYAH LUV, Steel Pulse Anchor 45
16 BONE IDLE, The Drones Balor 45
17 WATCHING THE DETECTIVES, Elvis Costello Stiff 45
18 A3DEP, XTC Virgin 12"
19 LOCK IT UP, Eater The Label 12"
20 I'M READY NOW, Mel Benton Surrey International 45
Chart tuppliad by Hot Lick's Records, 47 Cockbum
Street Edinburgh (te 1:031 -226 3735). Exhibition Centre, Bristol




BETHNAL

Diplock Hotel, Eastbourne




Good Mood, Halifax




THE CRABS

Tivolli Balroom, Buckley





University, Sheffield




JOHNNY CURIOUS AND THE STRANGERS

Railyway Hotel, Bishops Stortford




Rock Garden, Middlesboro




ADVERTISING

THE MEMBERS

Marquee, London




WIRE

Red Cow, London




THE UNWANTED

Rochester Castle, London

RICHARD HELL

& THE VOID- OIDS

THE LOUS

THE TOILETS

PENETRATION

Eric's, Liverpool




THE KILLJOYS

Pavillion, Bath




THE ADVERTS

Greyhound, Croydon




North London Polytechnic, London




Radio Stars

Polytechnic, Brighton




SPIZZ OIL

MODEL MANIA

Warwick University, Coventry




CHRIS SPEDDING

NEW HEARTS

Strathclyde University, Glasgow




ALBERTOS Y LOS TRIOS PARANOIAS

'Sleak'

Roundhouse, London