1977

DATE INDEX
NOVEMBER
DECEMBER
Siouxsie And The Banshees
SPRAY CAN WRITING ON THE WALL
... Some bands will go to any lengths to get themselves a recording deal.
Siouxsie And The Banshees
(or rather someone acting in their interests) defiled not one but fifteen different record company building walls with the nifty little slogan: "Sign Siouxsie and the Banshees. Do it now". It hasn't worked yet but it annoyed CBS enough for them to get one of their minions to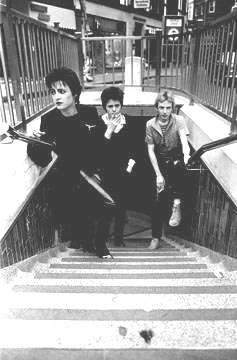 sand down the brick on the offending bit of wall.
(News item Sounds October 1977).
In case you were wondering who the culprit was here's what Manager Nils Stevenson said in 1983....

"The graffitti campaign was great, we all loved it, it was a bit of the old 'spirit'and it was funny. We didn 't ask Les to do it but thought it was a wonderful idea.
Les Mills was a bit like Steve Strange Harrington as he was then, very quiet. Asked if he could come in the van to gigs, he'd sit at the back of the van and read his books. Gradually we got him readying and taking care of Kenny's kit, and eventually, we decided to employ him as personal assistant and roadie. He was good, very loyal, then his opportunity arose to manage the Psychedelic Furs. He's doing alright with them, he's worked them in America a lot."
Wintergardens, Malvern




Nags Head, High Wycombe




DEAF SCHOOL

SPIZZ 77

Barbarellas, Birmingham




Polytechnic, Huddersfield This gig is recorded live and two tracks 'My Sex' and 'The Man Who Dies Every Day' is featured on the bands 'Retro' EP released in 1978.

Roxy, London