1977

DATE INDEX
NOVEMBER
DECEMBER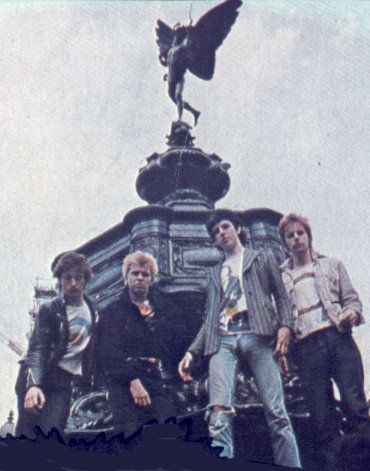 GENERATION X
are busy in the studio laying down tracks for their debut album.
ROCHDALE RIOT
ONE THING punk bands lack, and that's a sense of humour, Jesus, do they need it too.
So a solid gold pogo stick to The Drones, for being able to laugh at The Clash and to The Clash for being able to laugh at themselves.
The Drones, see, have recorded a take - off of the so - intense outfit of Strummer and Co, on a tape currently circulating around the CBS studios where it was cut.
It features Impromptu
versions of '1977', 'Rochdale Riot', 'Cops And Robbers' by Lovelace Watkins, 'Janie Jones Sucks Mick Jones' and 'CBS Is Burning'. It's titled 'Clash's 20 Greatest Hits Live At CBS'.
But, says Drones' volcalist MJ, it's not a dig."We think The Clash are great. It's not meant to be nasty at all, more like a tribute. We just did The Clash because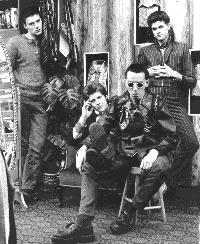 Whisper our bassist does this real great imitation of Joe Strummer."
And how did the Clash react? Well, Joe and Mick dropped into the studio to hear the tapes and apparently Joe was practically crying. With laughter. So they're human after all!
Unfortunately MJ says they have no intention of releasing the lampoon, so unless you work for CBS INC you'll have to wait until you see The Clash on Top Of The Pops before you get a laugh at their expense.
(Mick Mimm Record Mirror October 22 1977) Top Rank, Sheffield




ONLY ONES

the decorators

Rock Garden, London




BERNIE TORME

Locarno, Coventry




THE MUTANTS

Mardi Gra, Blackpool




Woods, Plymouth




THE MANIACS

Hope & Anchor, London




ADVERTISING

WARSAW PAKT

Dingwalls, London




ALBERTOS Y LOS TRIOS PARANOIAS

'Sleak'

Roundhouse, London

SIOUXSIE & THE BANSHEES

THE MODELS

THE KILLJOYS

Top Rank, Cardiff




JOHNNY CURIOUS

& THE STRANGERS

100 Club, London




THE CRABS

THE PSYCHOS

Music Machine, London




'F' Club, Leeds




WIRE

Blimps, Cambridge




WISHBONE ASH

City Hall, Sheffield




ANAL SURGEONS

Great Harry, Hemel Hempstead